One of the best ways of reviving the look of your kitchen is to replace the cabinets, but it can be very expensive!
However, there is an easier and much more affordable way you can refresh the look of your cabinets by simply repainting them. We know this may seem like a big arduous task, but with the right tools it can be done quickly and easily.
Like with all things decorating related, you should take a few steps before grabbing for the brushes.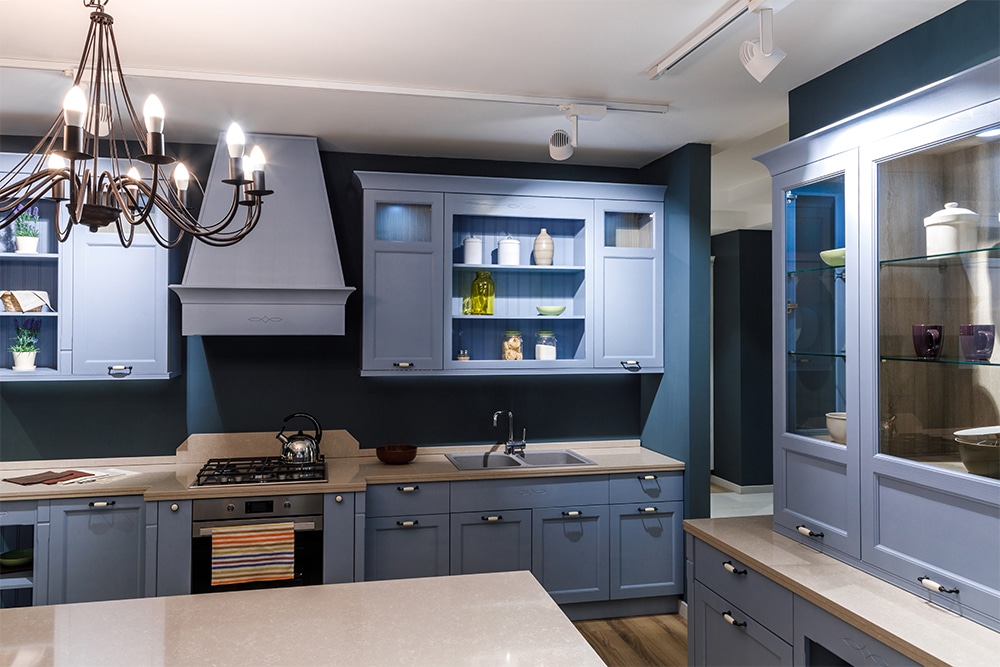 Preparation
Before you begin you will need to know the following:
What material are the cabinets made out of?
What finish do they currently have applied?
Which type of paint should I use in a kitchen?
What type of finish do I want the new paint to be?
Once you have all of these questions answered, you can begin.
Types of paint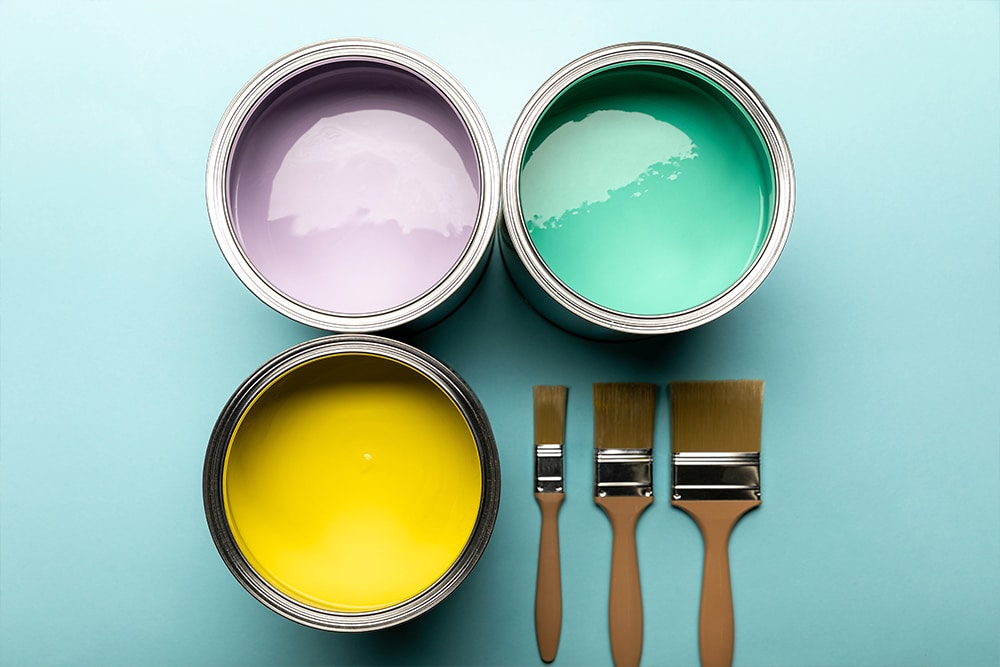 There is such a wide variety of paints available on the market, so how do you know which one is right for you?
Water-based paints
The most commonly used type of paint for D.I.Y-ers when painting the kitchen is a water-based paint. This is because;
Brushes and rollers can be washed with soap and water and so are much easier to clean
They have very low to no VOC levels – this means there are very few fumes and so easier to work with
They dry much quicker than oil-based paints
White water-based paints will not yellow over time
Whilst all of this sounds very good, there are also a few negatives to using a water-base paint;
They are less strong and so will not have the same quality over time when compared to an oil-based paint
A little more prone to chips and cracks
It should be noted that if you are applying a water-based paint to a natural wood surface, you should take lots of time and care to be sure you have sealed all the end grain. This is because if it is not sealed, the paint can saturate into the wood causing it to swell up and blister.
Oil-based/alkyd-based paints
Both these types of paints can be used in a kitchen and are what are usually chosen by the professionals. This is because they are;
Stronger and more resilient to chips, stains and marks
They cover the surface easier to create a smoother finish
The colour will fade less over time
Due to their 'levelling out' nature, they are more forgiving if the primed surface is not 100% smooth
However, just as with the water-based paints there are a few negatives to using oil-based paints as well;
Much more difficult to clean up – will require using a solvent such as white spirit
They have varying degrees of VOC levels which can make working with them in a small environment quite difficult
They dry very slowly which can cause a hindrance
An increased chance of oil-based paints turning slightly yellow over time
Both water-based and oil-based paints are perfectly fine for your kitchen cabinets, you will just need to consider all the pros and cons before making your decision.
Types of finish
Gloss – Gloss finish paints will give you a smooth and shiny finish. Glossy cabinets seemed to have gone out of fashion when the more 'contemporary' and 'modern' looks came along. However, it looks as though it may be making a bit more of a come back and can work very well in certain kitchen environments.
Ultra-gloss – As the name suggests this is similar to the previous finish but just much more 'glossier'. This type of finish can be quite striking in the right environment but are not usually seen on surfaces such as kitchen cabinets.
Satin – This is one of the most popular types of paint finish. Some brands will describe a satin finish as having a 'mid-sheen' or look slightly polished – similar in look to that of an eggshell.
Matt/Chalk – Whilst a very popular type of finish, it is not used so much on kitchen cabinets. Although that 'shabby chic' looks seems to never truly go out of fashion, a matt/chalky finish is not easy to wipe down and so not common to be used in the kitchen.
Primers
Properly priming your surfaces is always the number one key piece of advice we can give you to gaining a professional-looking finish. We think it goes without saying that if the foundation has not been laid properly, you are just not going to have a perfectly smooth looking end result.
To help assist you with your prep work, there is a product we recommend; Owatrol E.S.P.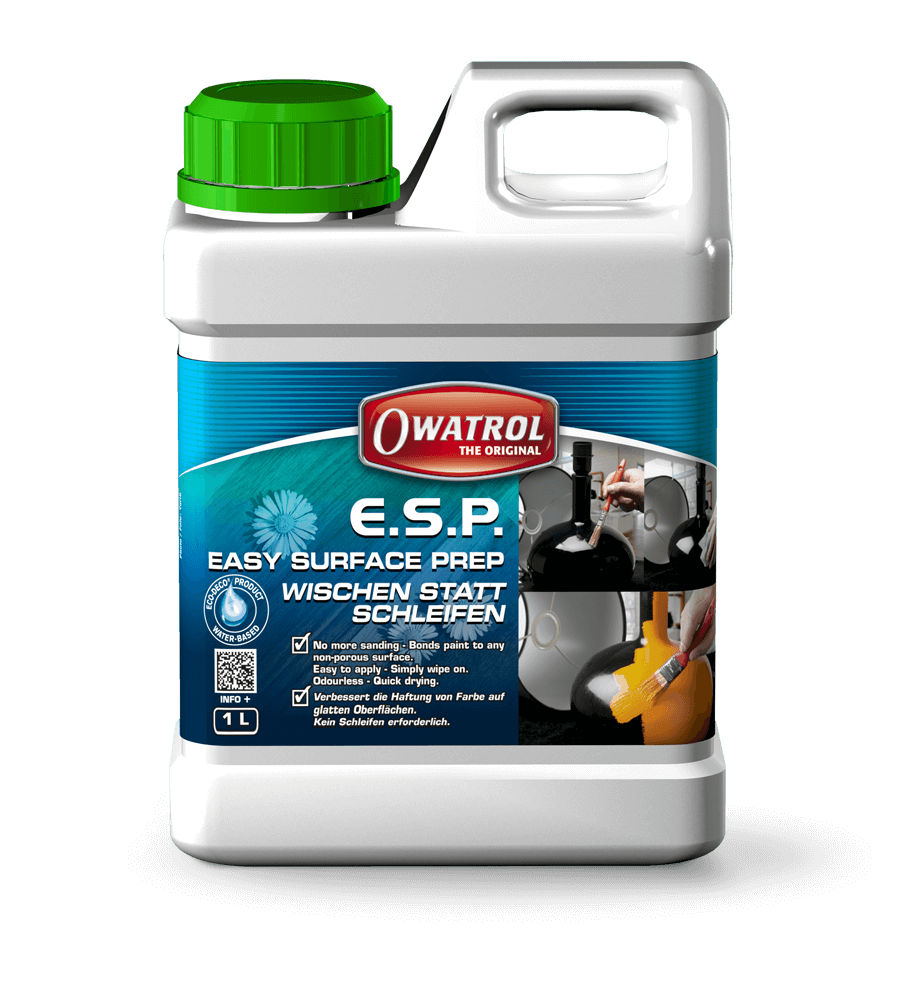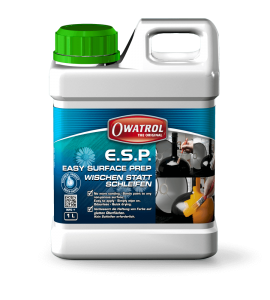 Owatrol E.S.P (easy surface prep) – Is a wipe on/wipe off product that primes and prepares any shiny or non-porous surface for painting. Completely eliminating the need for difficult and time-consuming sanding, once dry, E.S.P creates a surface that is ready for paint to bond to. This makes it ideal for application onto melamine cabinets!
It's safe to use in a kitchen environment, virtually odourless and colourless and is simply wiped on with a lint-free cloth or brush making it very easy to use.
Take a look at one of our previous blog posts where a customer used E.S.P on their kitchen cabinets to give it a complete make over.
Paint conditioners
Another thing you might want to consider is using a paint conditioner. Paint conditioners help improve the flow and workability of the paint, allowing you to get a better finish. They also remove brush and roller marks to leave a smoother and more professional looking finish.
We have two available – Owatrol Oil which is to be used in oil-based paints and Floetrol which is to be used in water-based paints. We highly recommend using a conditioner instead of a paint thinner or water as they can damage the quality, finish or colour of the paint.
Learn more about Owatrol Oil – For use in oil-based paints
Learn more about Floetrol – For use in water-based paints
---
We hope you found this post on the best paint for kitchen cabinets helpful. If you have any tips or advice, please feel free to share them down below. We love hearing from you!
To keep up with all our latest news and updates, why not follow us on social media? You can find us on; Facebook or Instagram @OwatrolIreland or via the hashtag #OwatrolIreland.