There's nothing we like better than hearing from our customers about using Owatrol products on their projects. And even more so when we see people our recommending our products to others!
We stumbled across this discussion on SingleTrack. A place where many DIY-ers and professionals alike offer tips and advice on all things decorating.
One DIY-er in particular was looking for help with re-painting their pine kitchen cupboards.
The original plan was to use a high street brand of cupboard paint. However, after discussing with others and getting recommendations, they decided to do something different.
What's wrong with cupboard paint?
The short answer is that it is a very long and laborious job! Before using Cupboard paint you have to clean all the surfaces with a sugar-soap solution. Then you would need to sand every little nook and cranny before applying a primer. Then, finally you would come to the last step of applying the cupboard paint, but this would still require 4-5 coats!
A very long and arduous task that can be done in half the time and half the effort.
Another way to paint your kitchen cupboards
If you don't fancy that long and tiresome way of painting kitchen cupboards, there is a better (and not to mention faster) way of doing so.
To start, clean all the surfaces with a sugar-soap solution and leave to thoroughly dry. This is a necessary step as all kitchen surfaces can become greasy which will prevent the paint from sticking to the surface.
Once clean and dry, simply use Owatrol Easy Surface Prep (ESP) to prepare the surfaces for painting.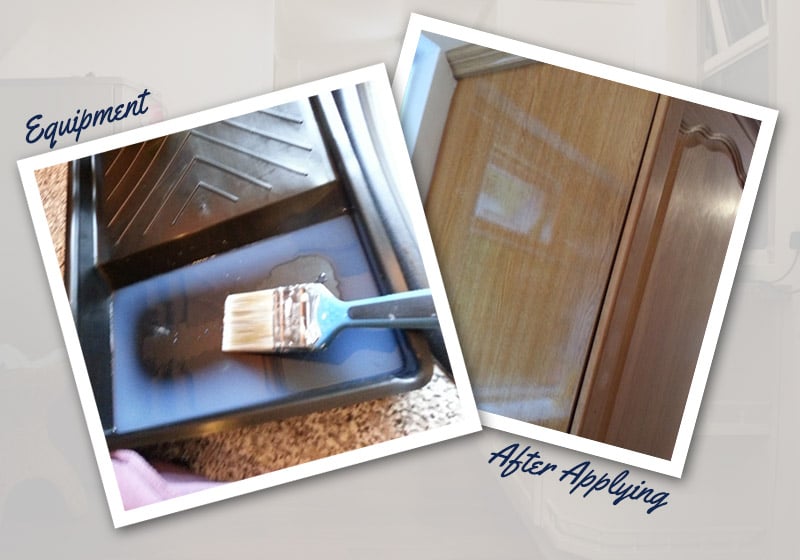 ESP is a wipe on, wipe off product that prepares shiny surfaces for painting in 5 minutes!
How to use ESP
Simply apply the ESP to the surface using a brush, a roller or a lint free cloth. Leave it for 5 minutes and then wipe off the excess with a clean lint free cloth. Allow 2 hours before painting so have optimum bonding.
The paint will now strongly adhere with no need for any sanding or priming!
Once you have waited 2 hours, you can now apply the paint any time up to 7 days later after application. However, if more than 7 days pass you will need to re-apply the ESP.
How does ESP work?
ESP works by creating a very strong film on shiny surfaces that allows both oil-based and water-based paints to adhere to. This eliminates the need for sanding and priming, allowing you to get on with decorating quicker and easier.
This customer in particular chose to use 'Eggshell' by Farrow & Ball, however, your choice of finish is yours alone!
ESP can be used on a wide variety of surfaces including melamine kitchen cupboards or even bathroom tiles!
Kitchen cupboards before & after
This DIY-er has achieved a fantastic finish all without having to sand or prime first – even on those tricky intricate designs!
It goes to show that you really don't need to spend thousands on a brand new kitchen when you can just revamp the one you have. Don't be put off by the hard work of sanding and priming – use ESP and save yourself time and energy!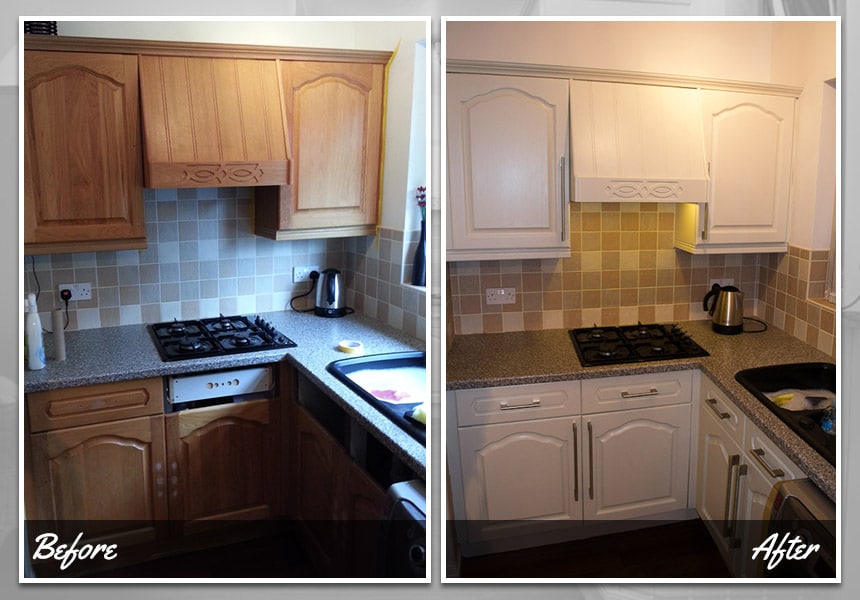 This is what the customer had to say about the finished result;
That ESP stuff is like liquid gold!
Another on the forum who gave advice about using ESP said;
I wouldn't paint a kitchen without it.
Take a look at the ESP product page for more information.
---
We hope you found this post helpful. If you have any other tips, tricks or advice, please feel free to leave them in the comments section below.
To keep up to date with all things Owatrol, why not follow us on our social media pages? You can find us on Facebook and Instagram @owatrolireland or at the hashtag #owatrolireland