Metal furniture may be known for its strength and durability, however, it is not immune to damage. But before you decide to take a trip to the tip, more often than not there is something you can do to restore metal garden furniture.
Using the right products (and with a little know-how) metal furniture restoration can be easy!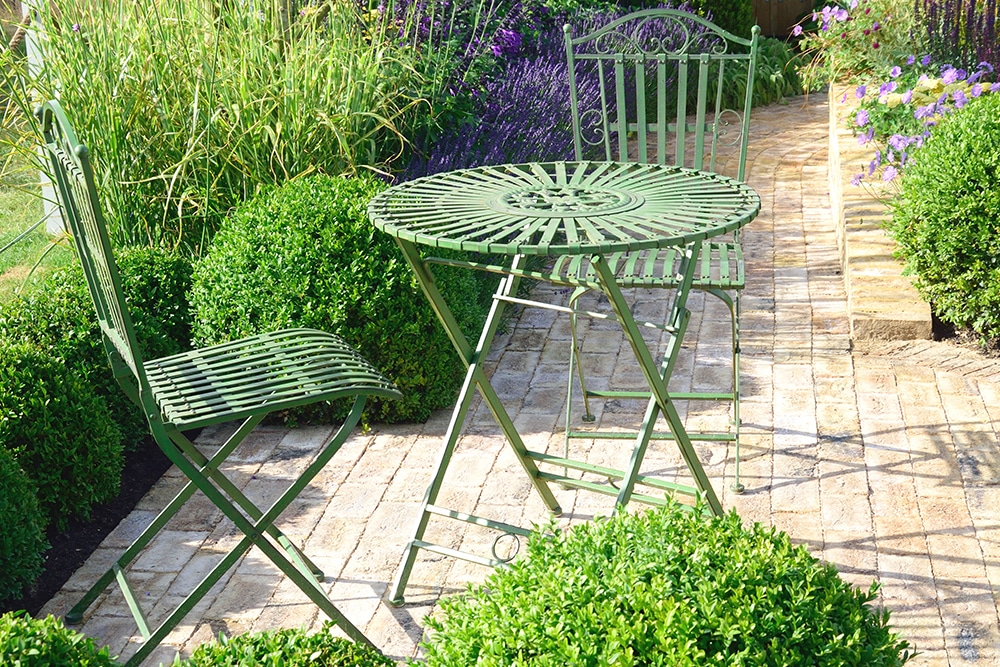 Without a doubt, the most common issue is metal furniture is due to rust. This occurs because garden furniture is usually left outside all year round and as such, they will be subjected to the two things rust needs; oxygen and moisture.
What is rust and what causes it?
Rust (otherwise known as iron oxide) is a type of corrosion that occurs when iron is exposed to oxygen and water (or air moisture). Over time, this will convert iron into rust and eventually cause it to disintegrate.
Worry not though, as this will usually take a very long time. So, if you have garden furniture that has rust on it, it is not unusable nor does it need to be replaced right away.
How to remove rust from metal garden furniture
There are various ways in which you can remove rust – some easier than others. You can read all about it in our previous blog post, 'How to remove rust from metal'.
One way of removing light to medium rusting is by using a scouring pad, steel wool or a wire brush. Then simply an application of Owatrol Oil (remember to wipe away the rust dust beforehand!). Do be cautious with your scrubbing though and be sure you do not brush back to bright steel.
Owatrol Oil is our highly saturating rust inhibiting oil that pushes out excess moisture and air from within metal surfaces, displacing it from rusted metal and so stopping rust dead in its tracks.
Once you have removed the rust and the metal has been protected with Owatrol Oil, you could then apply a paint finish if you so choose.
Rust inhibiting primers and finishes
Once the rust has been removed you can now protect the rust from reforming – perhaps with a fun new colour? We have a few items in the Owatrol range for this exact purpose:
Owatrol Deco – our multi-surface paint with a high-gloss finish available in 10 RAL colours
RA.85 Aluminium Paint – our high gloss aluminium look finish suitable for all surfaces
C.I.P – (Corrosive Inhibiting Primer) is a rust-inhibiting primer suitable for finishing with both single and 2-pack paints and finishes
Or, if you prefer, you could add Owatrol Oil to any oil-based paint to offer corrosive protection that way.
Preventing rust from returning
Apart from using rust inhibiting oils such as Owatrol Oil, the other thing you can so is keep your metal furniture clean, dry and away from high sun and rain.
Wherever possible, when the furniture is not in use, we recommend keeping everything tucked away inside a shed, garage or summer house. This is radically reduce the amount of moisture and humidity that the furniture is exposed to and as such, the amount and speed of rusting.
However, if this is not an option, you could instead purchase a cover to keep as much moisture off the furniture as possible. These are readily available at most garden centres or online.
Rust on patio tiles / paving slabs
An all too common problem caused by rusting furniture is rust on patio tiles. Rusty water can run off the furniture and onto your tiles, leaving behind unsightly brown-orange stains.
If this is something that has happened to you, we recommend trying Owatrol Net-Trol to remove the marks. Despite Net-Trol being formulated for use as a wood cleaner and brightener, we have had several customers use Net-Trol on their tiles to remove rust stains and grime with great success.
Just take a look at these before and after photos!
As this is not something Net-Trol was specifically created for, we always recommend testing it out on a small inconspicuous area first.
---
We hope you have learned a few ways to restore metal garden furniture!
If you have any other handy tips or advice, please feel free to leave them in the comments below. We love hearing from you!
If you share your project on Facebook or Instagram please feel free to tag us @OwatrolIreland or use #OwatrolIreland so we can see and share your hard work!