Timber cladding is becoming more and more popular, likely due to its great aesthetics, coupled with its easy maintenance. If looked after, wood cladding can not only look great, but can last for many years.
How do I protect wood cladding?
Step 1 – Removing existing coatings
For the best possible result, we always recommend going the extra mile and putting time and effort into the prep work. If your cladding has had any type of coating/finish previously applied to it, you will firstly need to remove it.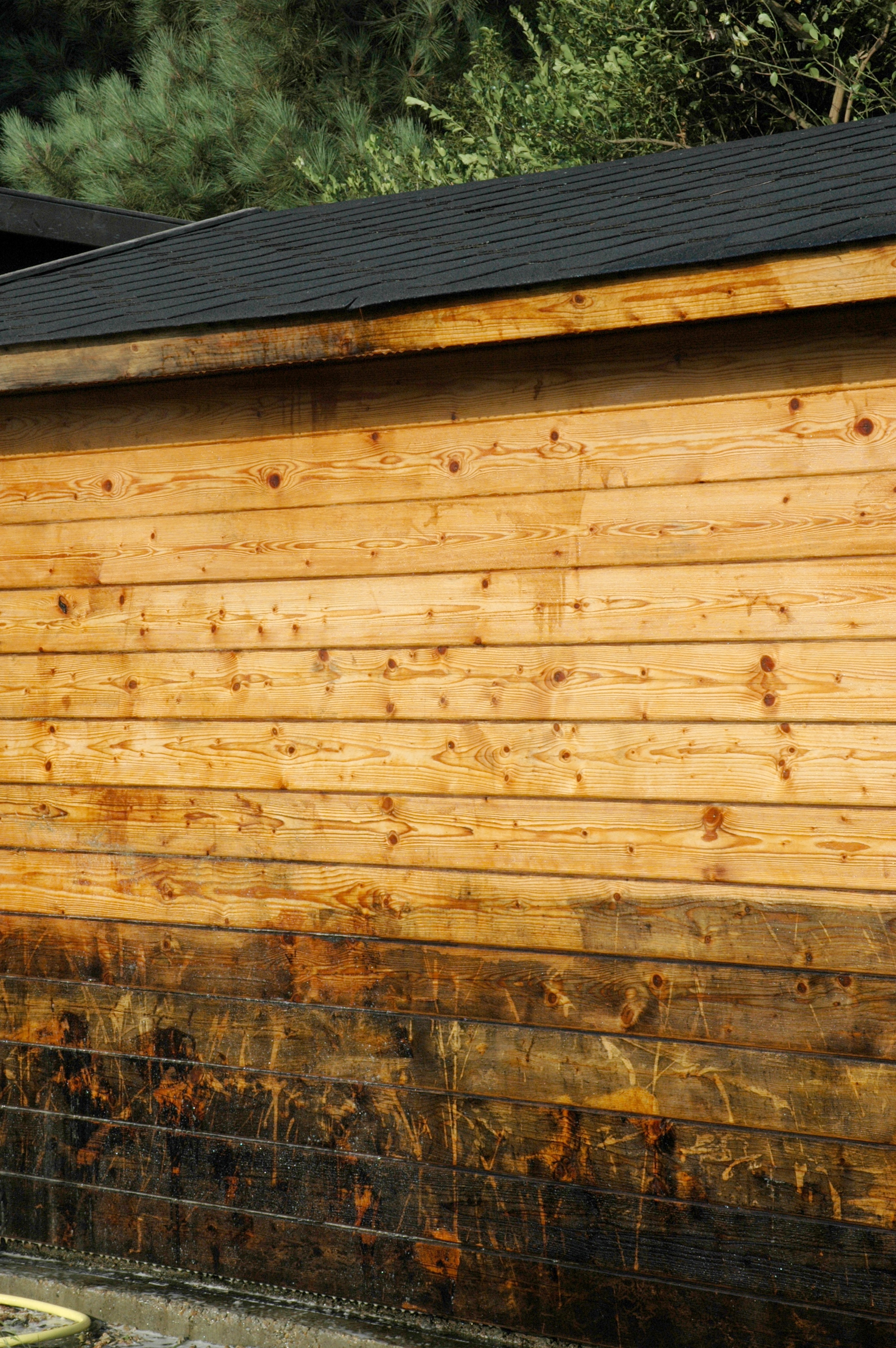 If you have had any oils (such as teak or linseed) applied, you could use a product such as Aquanett – our solvent-free wood oil remover. It makes for removal of oils very easy as it has a gel like consistency and so will not run on vertical surfaces. It is fast-acting and you can have your wood returned back to its natural colour in just 5 mins.
Aquanett is also biodegradable and water washable, making it safe to use in environmentally sensitive areas such as in your garden
If your wooden cladding instead has a paint coating, you would need to use a product such as Dilunett. Dilunett is our solvent and paraffin free paint stripper that will remove any oil and alkyd based paint, varnish or wood stain. Its powerful water-based formula is strong enough to strip up to 8 coats of finish in just one application!
Just like Aquanett, Dilunett is also a gel-like consistency, making ideal for use on vertical surfaces as it won't run.

Step 2 – Neutralise your wood
If your wood cladding doesn't have any coatings, you can instead skip step 1 and move straight on to step 2.
As previously mentioned the best way to get the best finish possible on your wood is to prepare it before application.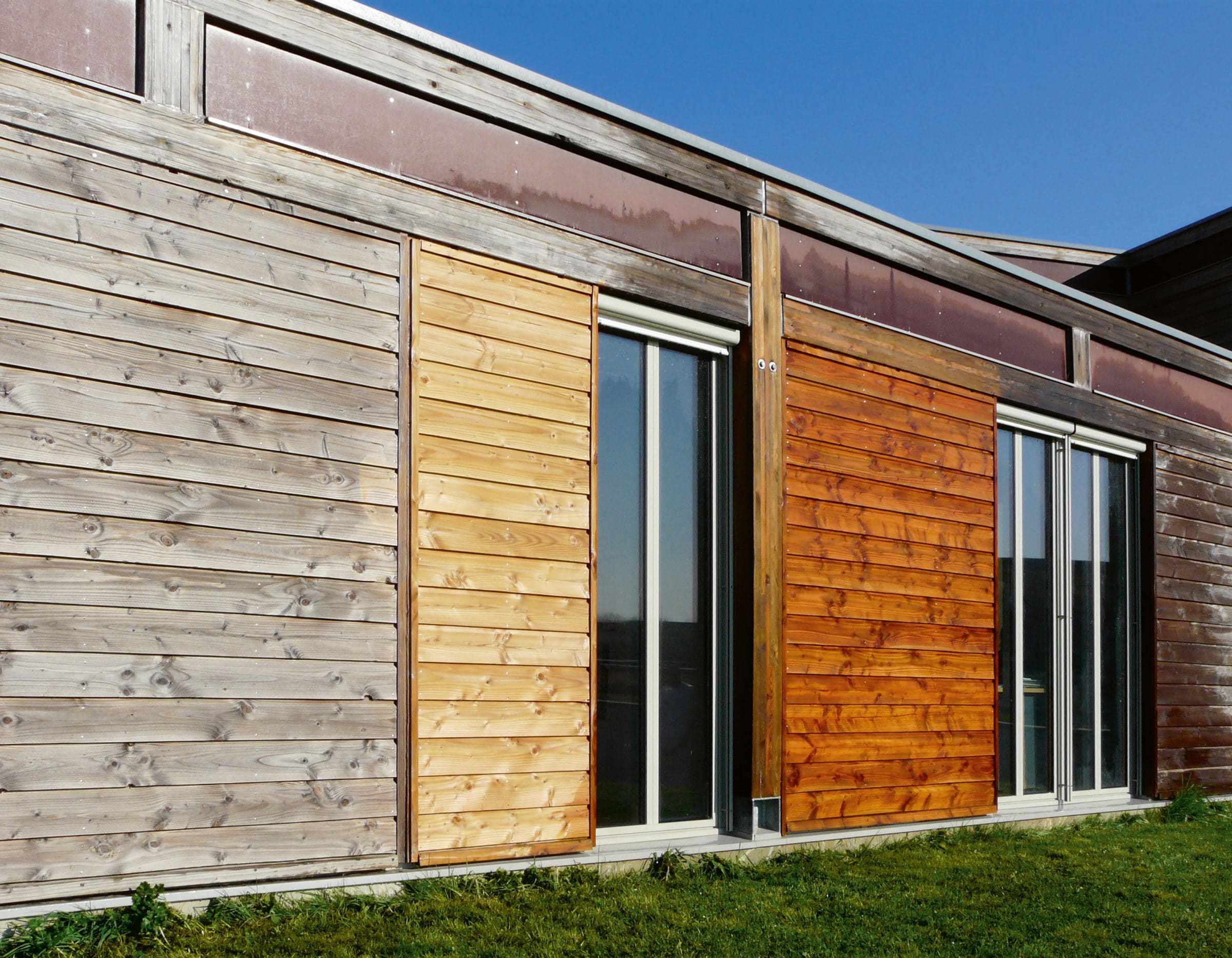 Owatrol Net-Trol is our water-based wood cleaner and brightener, colour restorer and neutraliser that will make your wood look as good as new – without bleaching it! As it is water-based it is biodegradable and as such is safe to use in the garden around plants and shrubs.
Using Net-Trol eliminates the need for time-consuming and labour intensive sanding and you can have results in just 15 mins.
If you have used a stripping product such as Aquanett, you will then need to use Net-Trol after application. This is an essential step as Net-Trol is a neutraliser that will stop the active ingredient in Aquanett from continuing to work.

Step 3 – Finish & protect your wood
Once your wood is prepped you can apply your choice of finish.
The two types of finish we will discuss here today are:
Water-based finish
Saturating wood oil finish
Protecting your wood cladding with a water-based finish
Saturating water-based wood finishes, such as Owatrol Aquadecks, are the most environmentally-friendly type of products. Due to it's make up, it is safe to use in gardens and can be easily cleaned up with just soap and water.
Aquadecks can be used on both new as well as weathered wood and when applied correctly, will not peel or flake. This is because it is a saturating product and works by protecting the wood from within. Therefore, there is no film and so it cannot peel or flake. Aquadecks is a great choice if you want to show off the natural beauty of your timber and is available in 7 shades.
What application tools do I need?
Aquadecks is easy to apply with a brush, roller or airless sprayer.
How to apply Aquadecks to your wood cladding
You apply Aquadecks 'wet-on-wet' – meaning that you do not need to wait for hours for the coats to dry between application. Simply apply the first coat, then wait around 15-20 mins for the finish to soak in and then apply a second coat.
If your wood cladding is brand new, you will need to remove the mill graze (this is important as it can prevent Aquadecks from saturating) by applying Aquanett, and neutralising with Net-Trol. Alternatively, you can also sand the mill glaze off with 80 grit paper.
If instead your wood is grey and weathered, you should clean and brighten it with Net-Trol.
Once you have prepped your wood, you will need to make sure it is dry before application of Aquadecks. This will usually take around 48 hours after application of Net-Trol).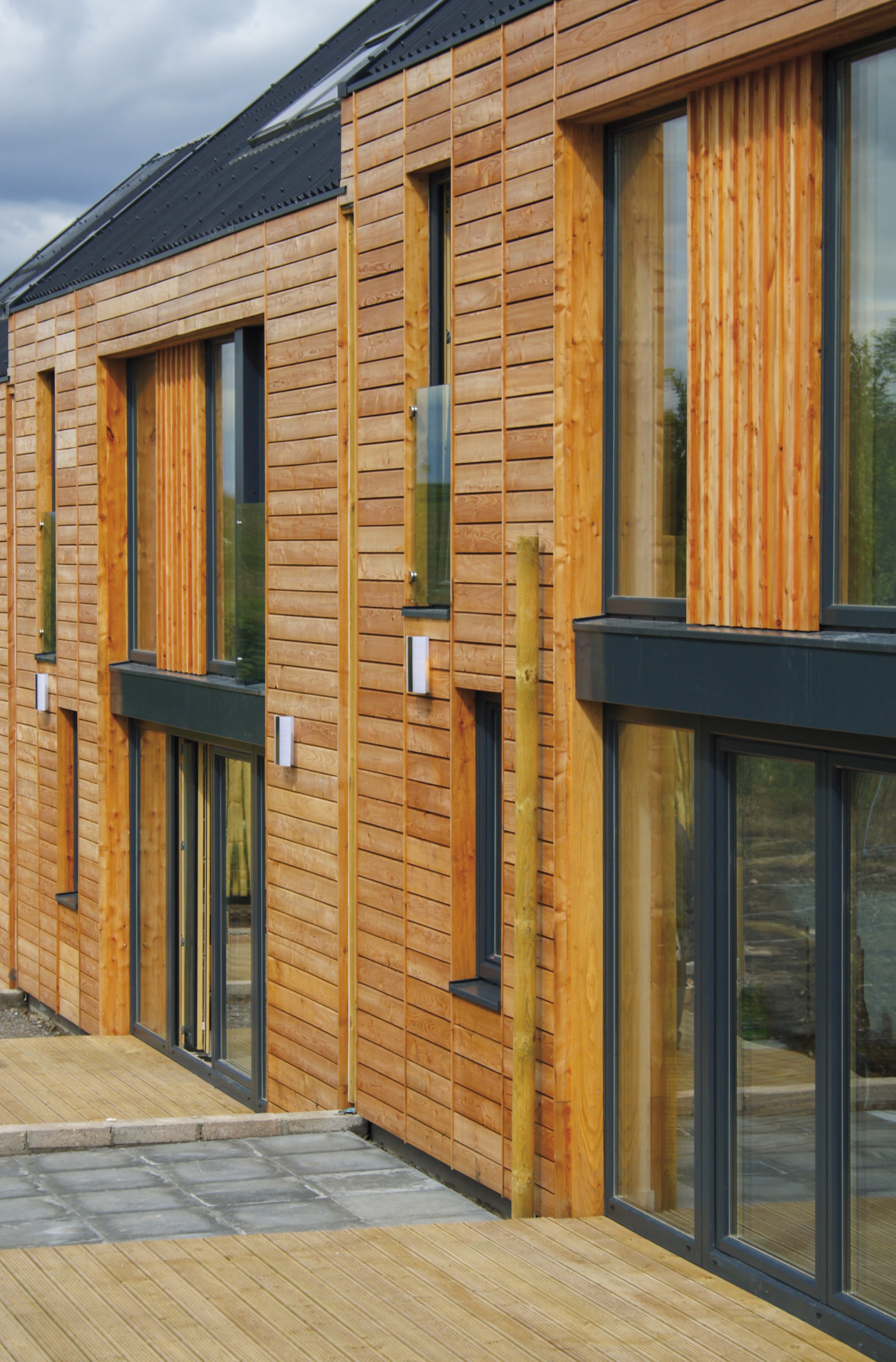 Application
Mix Aquadecks thoroughly before and periodically during application.
Working in the direction of the grain, liberally apply your first coat of Aquadecks. You can do this with a brush, roller or airless sprayer.
Leave for 15-20 minutes (or when your first coat starts to lose its wet look). Then apply a second coat.
If your wood cladding is very porous, you might need to apply a third coat. If this is the case, you should do this after another 15-20 minutes.
20 minutes after applying your final coat, brush out any 'puddles' where Aquadecks hasn't been absorbed.
Aquadecks is a saturating product and as such it should not 'sit' on the surface of your wood. If you wish to spray Aquadecks onto your wood cladding, always brush or roll back to improve saturation, coverage and uniformity of colour.
It is important that Aquadecks be applied wet-on-wet and is not to be allowed to dry in-between coats. If your work area is large, we recommend you work in smaller sections that you can complete in around 15 minutes. This will allow you to go back and re-coat before your cladding is able to dry.
Maintenance of Aquadecks
When using a water-based wood finish such as Aquadecks, maintenance is very simple. All you need to do is give the wood a clean with Net-Trol and then apply a single coat of Aquadecks. No sanding or stripping is required!

Protecting your wood cladding with a saturating wood oil finish
Saturating wood oils work by penetrating deep down into the pores of the wood to push out any moisture and oil, replacing them with oil. This is a great way to achieve long-term protection as the wood cladding is protected from within, therefore there is no film left on the surface and as such, it cannot peel or flake.
Saturating wood oils can be clear or tinted – this is to enhance the natural colour of the wood, rather than cover it.
If this sounds like something you wish to do, then we recommend using a product such as Owatrol Textrol. Textrol saturating wood oil is one of our top selling products specifically designed for use on weathered wood and available in 4 shades: Clear, Golden Oak, Rustic Oak and Weathered Grey.
What tools will I need?
You can apply Textrol with a brush, roller or airless sprayer.
How to protect your wood cladding
If your wood cladding is brand new, we recommend you treat it with Seasonite and then leave it to weather for 6 to 12 months, so that Textrol can properly penetrate your cladding. This is because Textrol has been specially formulated for use on weathered wood.
Before you begin the process of applying Textrol, we highly recommend that you clean your wood cladding with Net-Trol to restore it to it's natural colour and to allow the Textrol to saturate. If there are any coatings that need to be removed, you should do this now with a product such as Aquanett or Dilunett.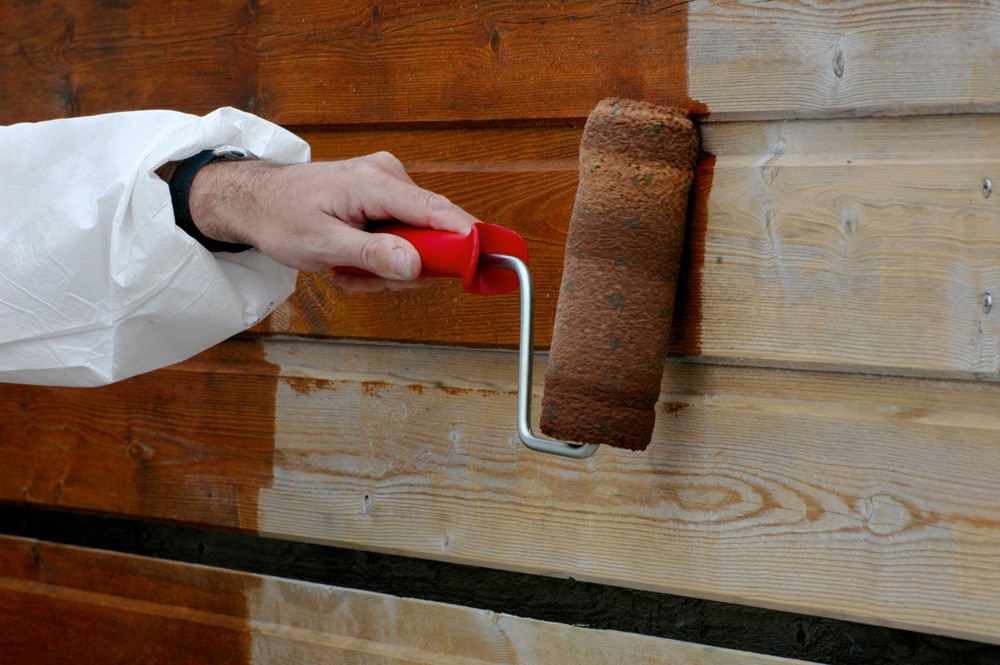 How to apply Textrol:
Apply the first coat of Textrol and leave it to saturate for 15-30 minutes. Keep an eye on it and make sure that the surface of the wood does not dry out between coats.
Next, apply a second coat. Repeat this step until no more Textrol will be absorbed into the wood.
Finally, brush away any excess oil to avoid shiny spots.
For best results, make sure that you work across the wood cladding in smaller sections. This will allow you to quickly and easily go back to your initial section and apply the next coat before it becomes dry.
Once you are finished, you should clean your tools with white spirit immediately. If they are left to dry, you will need to remove the excess Textrol with paint stripper such as Dilunett.
Be sure to properly discard of any cloths or anything else that you've used that has come in contact with Textrol. Please follow the instructions on the tin.
If instead you would like to protect your wood cladding from water damage but keep the grey, weathered look, we would recommend using H4 Wood.
Benefits of saturating wood oil
A huge benefit of using one of Owatrol saturating wood oil's is that it is very easy to maintain. No sanding or stripping is required! Simply clean with Net-Trol and apply a maintenance coat.
Saturating wood oils are a great choice not only aesthetically but also offer exceptional long-lasting protection from damage caused by moisture and UV rays.
---
So there we have it, we hope you found this post on how to protect wood cladding helpful. If you are still unsure or have any questions, feel free to contact us.
As always, if you have any tips or advice, please feel free to leave a comment below.
We love hearing from you! If you share your project on Facebook or Instagram please feel free to tag us @OwatrolIreland or use #OwatrolIreland so we can see and share your hard work!