As we move ever closer to the Autumnal months, we should begin to think about storing away our garden furniture to protect it from the Winter weather. However, before you decide to pop your wooden sun beds away until next year, you might want to consider giving them a little TLC.
We know at first thought it seems a bit silly to be giving your sun beds a makeover when you won't be using them again for several months. However, doing this task in the Autumn leaves you with more time to dedicate to your garden come the Spring when the warmer weather rolls in.
After all, would you rather be doing some DIY or firing up the BBQ?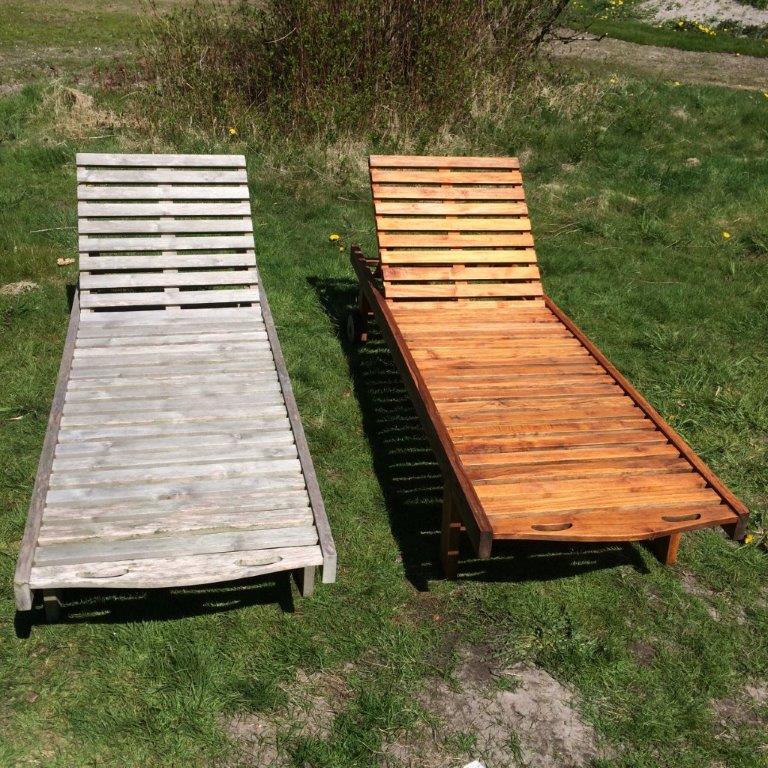 Step 1 – prepare the wood
Before applying any Owatrol finish, it is imperative that you give your wood a thorough clean. This is because our finishes work by saturating deep into the surface of the wood to protect from within. Therefore if there is any previous finish, dirt or grime on the surface, this will greatly impact the saturating capabilities of the finish.
We recommend using Net-Trol – a powerful wood cleaner and brightener that can clean both surface and ground-in dirt. It will remove all types of weathering problems that have occurred via UV rays, pollution and mildew.
Net-Trol is a perfect product to use in your garden as it is biodegradable and does not contain any bleach or solvents so is harmless to your plants and shrubs.
Application of Net-Trol
Wet your sun beds with clean, fresh water
Apply the Net-Trol with a brush or roller and then scrub the surface with a stiff synthetic brush
Leave to work for 10-20 mins – if it begins to dry out, wet the surface with a mist of water
Scrub the surface whilst rinsing with water or a pressure washer
If the wood is still a little dirty, repeat the procedure
Leave the wood to dry for at least 48 hours before applying a finish
As Net-Trol is a water-based product, all you need to clean your tools with is soap and water!
Step 2 – Finishing with Textrol
Textrol is our wood oil finish that has been specially developed for weathered wood. It is available in 7 different colours so we're sure to have something to compliment your garden.
As previously mentioned, our finished saturate deep within the wood to protect it from the inside out. Having this formula means that Textrol will not form a film on top of the wood as so therefore there is nothing there to crack, peel or flake off.
Textrol is also very easy to apply. Using our wet-on-wet system means that you can apply the next coating without waiting for several hours. The maintenance is also very easy with just a c=simple clean and local touch-ups required – no time-consuming sanding needed!
Application of Textrol
Apply a coating of Textrol and leave to work for 15-30 mins
Apply a second coat of Textrol and leave for a further 15-30 mins
Pay close attention to the wood as it is vital that the wood does not dry out between coats
Keep applying any further coatings as required until the wood will not accept any more.
Wipe off excess oil that has not saturated – this step is important so to avoid having shiny spots
And there you have it – it's as simple as that!
What if my sunbeds already have a treatment on them?
If your sun beds have a previous treatment or finish on them, you will need to remove it beforehand. To do this you will need to use a product such as Aquanett or Dilunett.
Aquanett is our wood oil remover and Dilunett is a paint and other coatings remover. Be sure to use the right type of removing product to ensure the best result.
Once you have used one of these products you must then use Net-Trol. This is a vital step as not only is it a wood cleaner and brightener, but it is also a neutraliser. You will need to use this to stop the active ingredient in our removers from continuing to work.
---
We hope you found this post helpful. To keep up to date with all things Owatrol, why not follow us on Facebook or Instagram @owatrolireland or at the hashtag #owatrolireland