There are a few ways in which you can restore weathered wood to its original colour, however, using a product such as Net-Trol is likely the quickest and easiest.
What is Net-Trol?
Net-Trol is a wood cleaner and brightener which deeply cleans and restores grey weathered wood back to its natural colour. Its powerful formula easily removes both surface and ground in dirt and can restore your woods natural colour in as little as 15 mins.
One of the best things about Net-Trol is that it's biodegradable and does not contain any solvents or bleach. This means that it's safe to use in the garden as it is not harmful to plants!
Net-Trol can also be used as a neutraliser after the application of products such as Dilunett or Aquanett. This is an important step in the process as Net-Trol stops the active ingredient from continuing to remove the finish.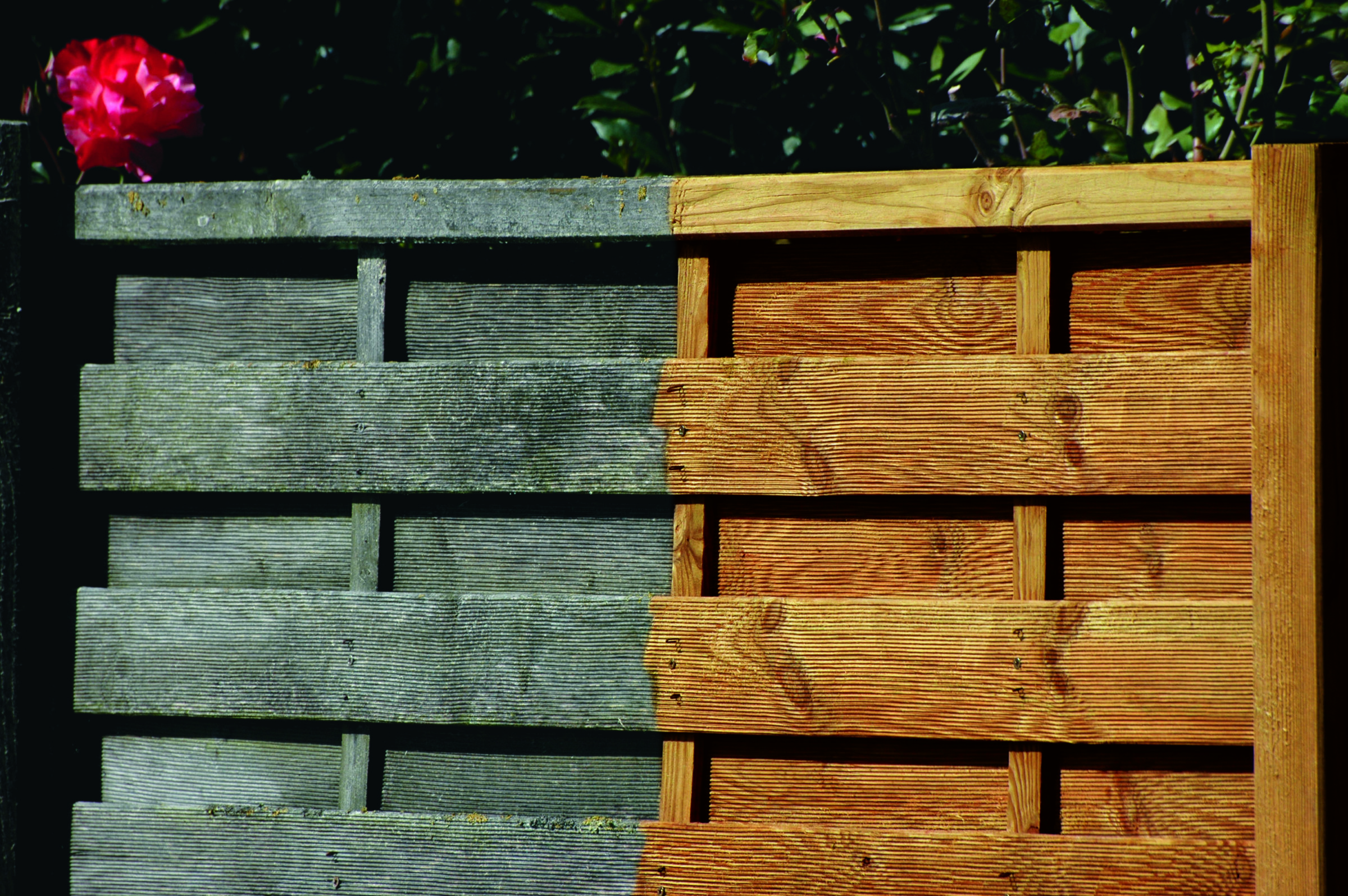 How to apply Net-Trol to weathered wood
Application of Net-Trol onto weathered wood is quick and easy.
Step 1
To begin you must wet the surface of the wood. Using a hose is the quickest and easiest way to get it sufficiently wet.
Step 2
Once the surface is wet, you can begin the application of the Net-Trol. You can apply it with a brush, roller or a sponge – whichever is easier for you. If you are applying to a grooved deck for example, you might fin a brush easier to get into all the little spaces.
As it has a gel-like constancy, application to both horizontal and vertical surfaces is easy as the product will not quickly run off the surface.
Then, simply leave the Net-Trol to work for 15 mins. Keep an eye on the surface – if you notice the Net-Trol starting to dry out, apply a mist of water.
After 15 mins have passed, scrub a small area with a brush to see if the dirt is lifting. If necessary, leave the Net-Trol for a further 5 minutes to work (20 mins in total).
Step 3
After 15-20 mins you are now ready to remove the Net-Trol. We recommend using a brush and scrubbing the surface whilst rinsing with a hose. You can also use a pressure washer, but make sure to not go over 60 bars as you can damage your wood. If necessary, you can repeat this process.
Your wood should now be back to its former glory and ready for finishing!
We recommend showing off your beautiful new wood with one of our saturating wood oils. Some of our most popular are Textrol saturating wood oil or Aquadecks water-based wood finish.
For further information on Net-Trol complete with before and afters, take a look at our demonstration video below of a garden fence being restored.
---
So there we have it, we hope you found this post on how to restore weathered wood helpful. If you are still unsure or have any questions, feel free to contact us.
As always, if you have any tips or advice, please feel free to leave a comment below.
We love hearing from you! If you share your project on Facebook or Instagram please feel free to tag us @OwatrolIreland or use #OwatrolIreland so we can see and share your hard work!