Depending on what type of finish you have on your decking will depend on how you need to go about removing them.
Wood oils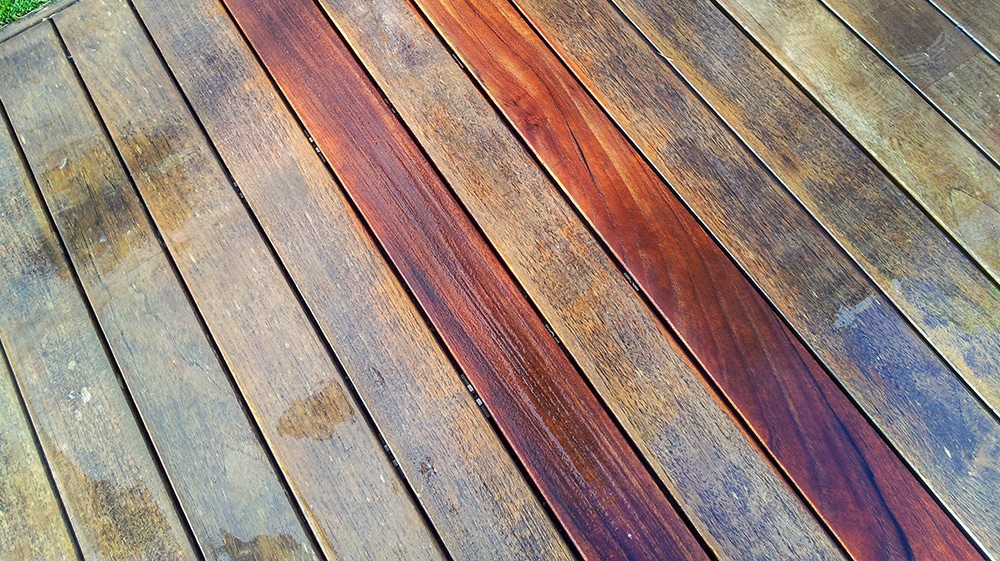 If you deck has been finished with a wood oil (teak, linseed etc) we recommend you remove it with a product such as Aquanett. Aquanett is a powerful, bio-degradable wood oil remover that can be used on new, old and even encrusted oils from exterior wood.
It is free from solvents and paraffins, and is suitable for using in environmentally sensitive areas as it has a gel consistency which means it will not run.
Simply use a brush or roller to apply Aquanett to the deck, leave it to work for a maximum of 5 minutes and then scrub the wood while rinsing with the highest pressure source you have.
Once you have done this, you must then neutralise the wood with Net-Trol. This is an important step as it stops the active ingredient in Aquanett from continuing to work.
You could also use Prepdeck to remove some oils from wood. Prepdeck is applied very much in the same way but is usually left for longer to work. Aquanett performs better on certain wood oils such as linseed or teak and so recommend using Aquanett over Prepdeck for these oils. You will also need to use Net-Trol to neutralise the wood after using Prepdeck as well.
Paint / opaque finishes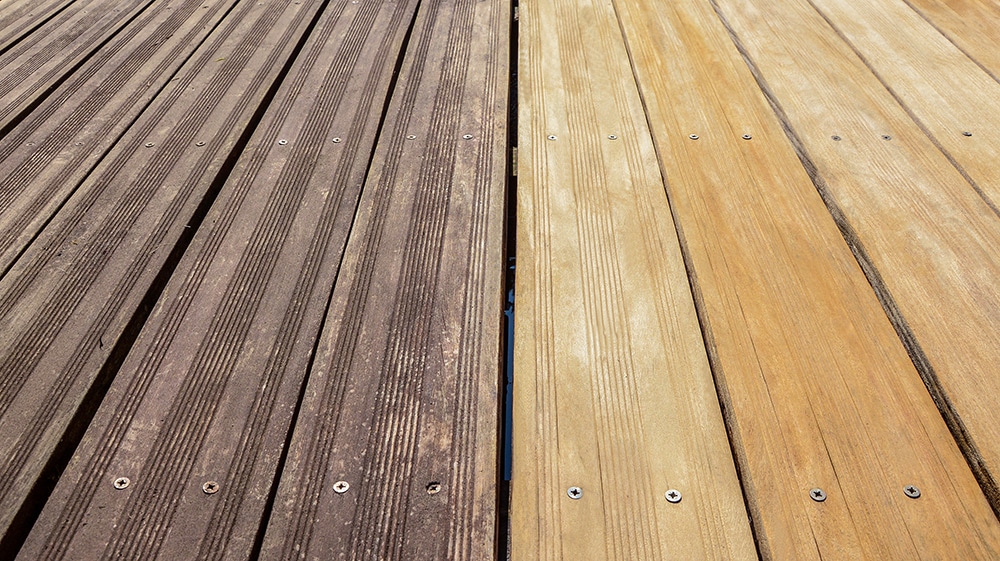 If your deck has a paint or other type of opaque finish on it we recommend using Dilunett. Dilunett is a solvent and paraffin free stripper that will remove any oil and alkyd based paint. Its powerful formula strips up to 8 coats in just one application.
Dilunett is easy to apply and dissolves paint in even the smallest of recesses and the finest of details. It is also biodegradable and non flammable.
Application is to be carried out in the same was as Aquanett and Prepdeck including neutralising it with Net-Trol after rinsing.
Before you apply Dilunett we recommend testing to see what the 'touch time' will be. To do this, apply a small amount of Dilunett and leave it to work for a few minutes. After a short period of time, use a scraping tool or give the surface a small scrub at the edge of where you applied it and check if the coats are lifting. If you find that they are not, simply leave it for a little longer and try again.
Keep checking back every so often and once the coats are lifting, you will then know your touch time. Doing this means that you now know how long to leave the Dilunett on the surface to work. Remember to work in areas that can be finished within the touch time.
Again, you can also use Prepdeck but we recommend Dilunett as it works better on removing paint.
What if I don't know what is on my deck?
You may not know what finish is on your deck. Let's face it, if you have bought a new house you probably wouldn't have asked what finish was used on the deck before buying!
For this, we recommend purchasing a sample pot of Dilunett to carry out a small test and see if it can lift the finish. Dilunett will remove paints very easily but also has the ability to remove oils so is a good product for if you're not sure!
You may however find that the finish is not lifting with Dilunett and in this case we would recommend purchasing a sample of DSP 800.
DSP 800 is a very powerful multi-purpose stripper that can remove all types of finishes, including 2 pack paints! It is applied in the same way as the other strippers but you do not rinse it off with water. To remove it, you must use a scrubbing brush or a scraper. DSP 800 is usually a last resort, especially if you have reeded decking as the removal process isn't a quick and easy one.
---
We hope you found this post helpful. If you have any other tips, tricks or advice, please feel free to leave them in the comments section below.
To keep up to date with all things Owatrol, why not follow us on our social media pages? You can find us on Facebook and Instagram @owatrolireland or at the hashtag #owatrolireland