No doubt the majority of you know damp when you see it, but maybe you don't know what the differences of damp are, nor how to specifically treat it
There are 3 very common types of damp; condensation, rising and penetrating. As they all have different causes and therefore require different treatments, we are going explain further about each one, to help you remove them safely and effectively.
Condensation damp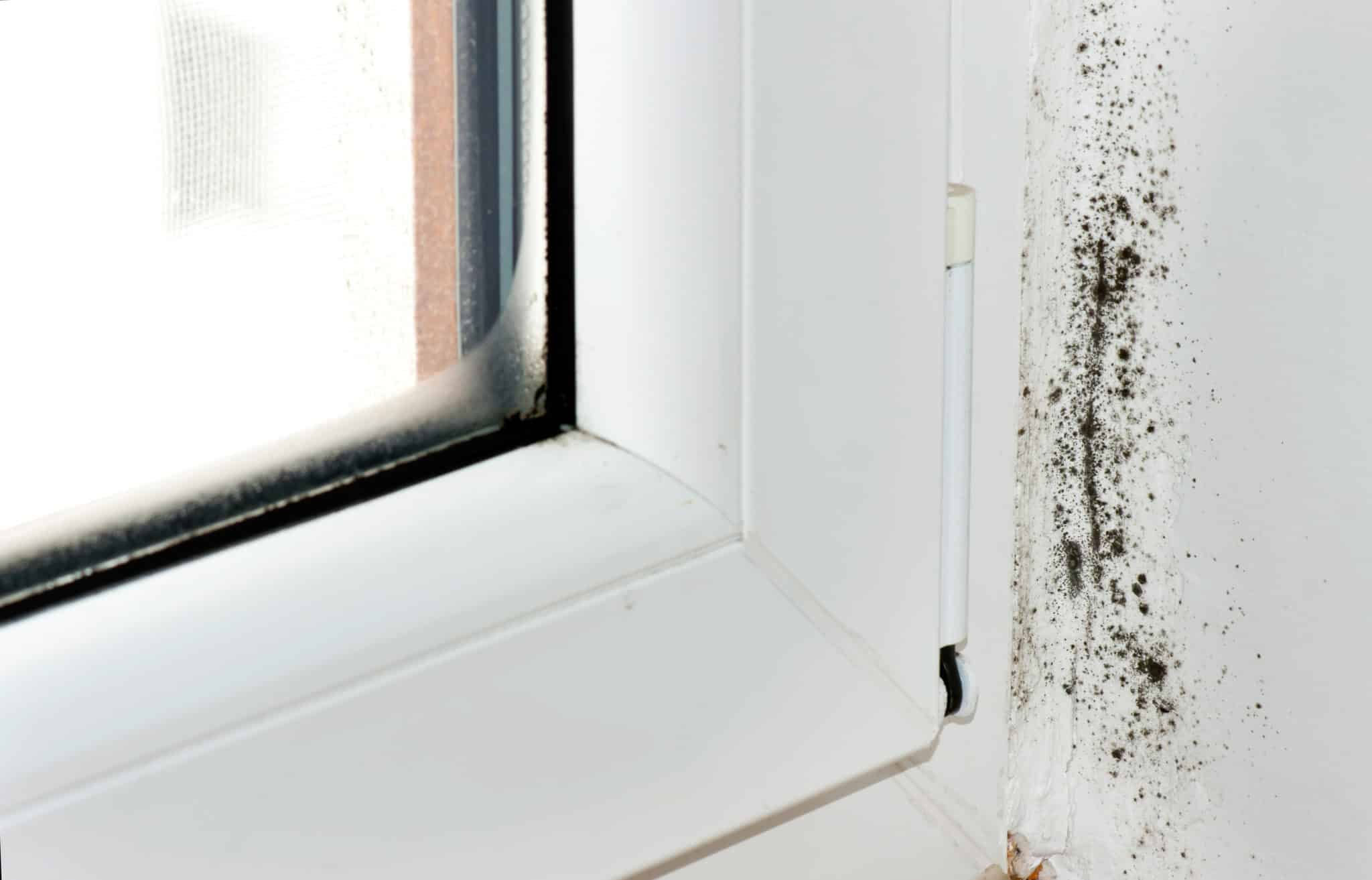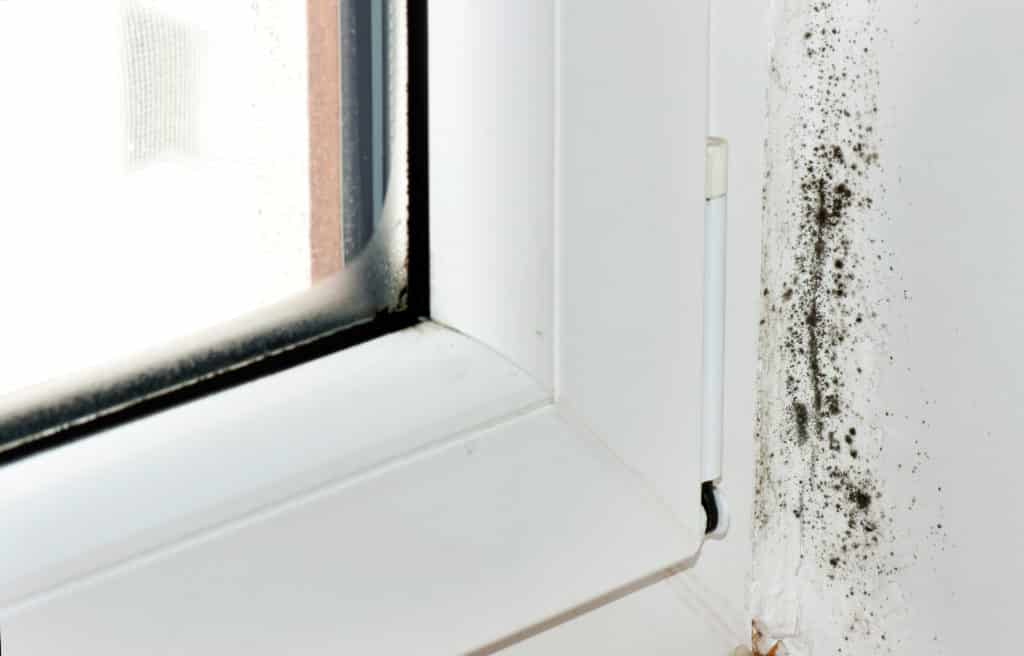 Possibly the most common type of damp, condensation damp arises when the air outside is colder than the air inside. The temperature difference causes the air inside the property to condense and water droplets form. This type of damp is more commonly seen on windows but can also be on walls too.
The more moist a room is the higher the likelihood of condensation occurring. This is why some rooms see this type of damp more commonly than others, such as kitchens and bathrooms, but also where wet laundry is drying and bedrooms.
Whilst water droplets are the main thing you will spot with condensation damp, it can also create dark mould spots. These can be found especially around such places as window openings where the exchange in temperature is higher.
If this mould is left, it can damage paintwork, plaster and window frames. It should be noted that this type of mould is harmful to respiratory health and so should be sorted out as soon as possible.
It's in both yours and your homes best interest to try and prevent condensation damp from occurring. The very best way to ensure this is to have good ventilation throughout the property.
Our top tips for good ventilation:
The vast majority of new homes have what is known as 'trickle vents'. These are installed at the top of the windows and allow for a small amount of ventilation quickly and easily. We would recommend having these open almost all the time if possible.
Another common thing modern windows have is the ability to 'lock the window open'. This allows for more ventilation than the trickle vents, whilst keeping any rain and also securing your home.
Finally, using the extractor fans in your kitchen and/or bathrooms will definitely make a difference. Be sure to keep the fan running for at least 5 mins after you have finished cooking or bathing though as you need to give it time to work.
Another way you can try and avoid condensation damp is by avoiding the extreme temperature fluctuation. For example, you might find that during the winter months it may be more beneficial to you to have a consistent temperature (such as 18°C) but then have it drop down to be only 15°C at night. A small fluctuation in temperature over a course of several hours instead of going from extreme highs to extreme lows could help you win the battle against condensation damp!
It would also be beneficial to use a dehumidifier and to wipe away the water droplets as they form.
Removal of condensation damp
Once the cause of the condensation has been fixed (or at least things have been put into place to help combat it!) you can remove the unsightly mould.
The first step we recommend you take it to use a chemical treatment to specially remove and kill condensation damp mould. It would be in  your best interest to use one that contains low toxicity ingredients and has high antimicrobic activity.
Once the mould has been removed, you could then also use a mould preventative to help stop it from coming back. This can be in the form of a spray or an additive that you mix into paint when applying a new coat.
Rising damp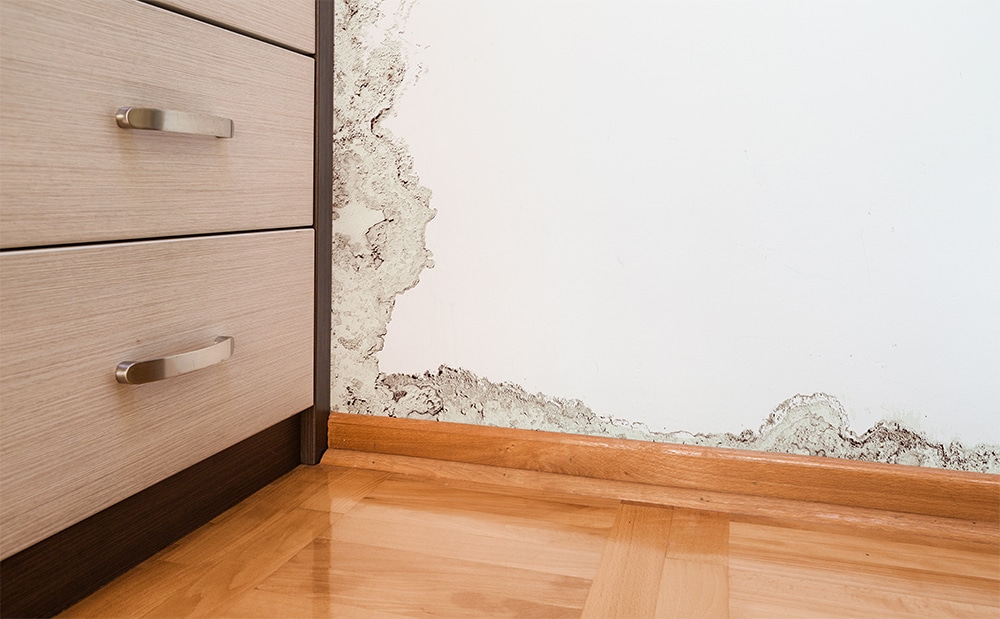 This type of damp is likely the most commonly heard of one, but perhaps you are not familiar with the specifics.
This is a type of damp that forms when moisture transfers up the walls of a building, usually from wet carpet. Rising damp is much more common in older homes, such as those built before 1875. This is because before this time, there were no regulations requiring the installation of a damp proof membrane.
Rising damp occurring in houses build after this time will usually have a fault with either the damp proof membrane or the damp proof course (or a mixture of the two!).
The top things to look out for when identifying this type of damp are:
Staining on walls
Peeling and/or blistering paint
Tide marks on walls
Damage to skirting boards
An unpleasant musty odour.
This type of damp is very serious and we recommend consulting an RICS registered chartered building surveyor to establish the cause of the damp and help you find a suitable solution.
Prevent rising damp:
If purchasing a house, establish when it was built and try to find out if it has a damp proof course and membrane installed. You may find that the house had a chemically injected damp proof membrane installed. If this is the case, it's important to check the effectiveness of it and try to establish if an insurance backed guarantee is included in the sale.
Check the guttering to make sure it is well designed, maintained and does not allow for the ground to become overly saturated.
Check the level of soil in the garden that is directly next to the house does not rise up any higher than the level of the damp-proof barriers.
Treatment for rising damp
Repairing the existing damp-proof courses, or installing a new damp-proof course.
Increasing the ventilation to the home. Take a look at 'ideas for ventilation' above.
If you have an older home, you may find that you do not have a damp-proof course and that modern renovations (such as plastering and/or insulation) can actually exacerbate damp issues by reducing the building ventilation. We recommend you get advice from a registered professional before investing any time and especially money into renovation work that may well not be the best course of action.
Penetration damp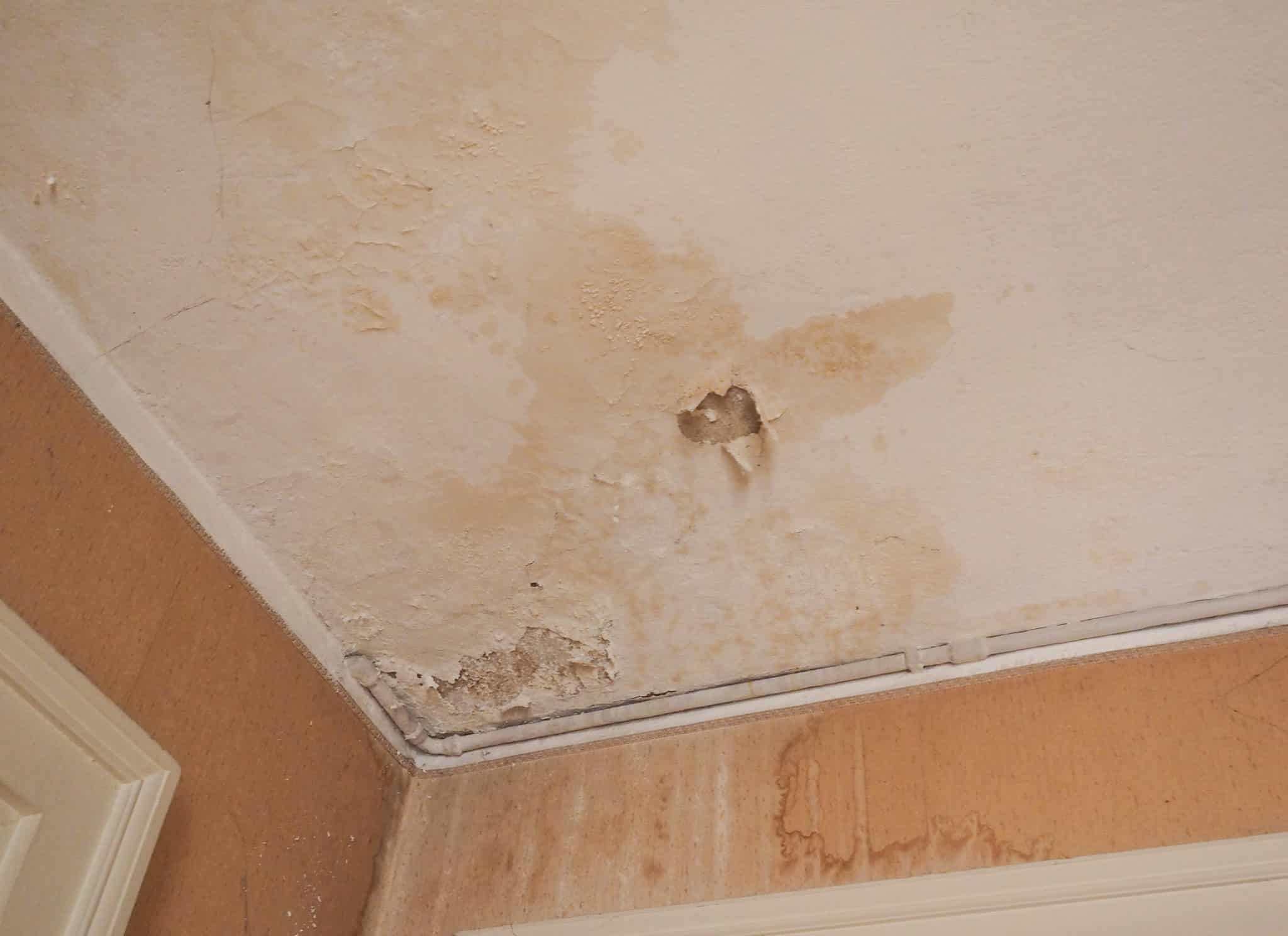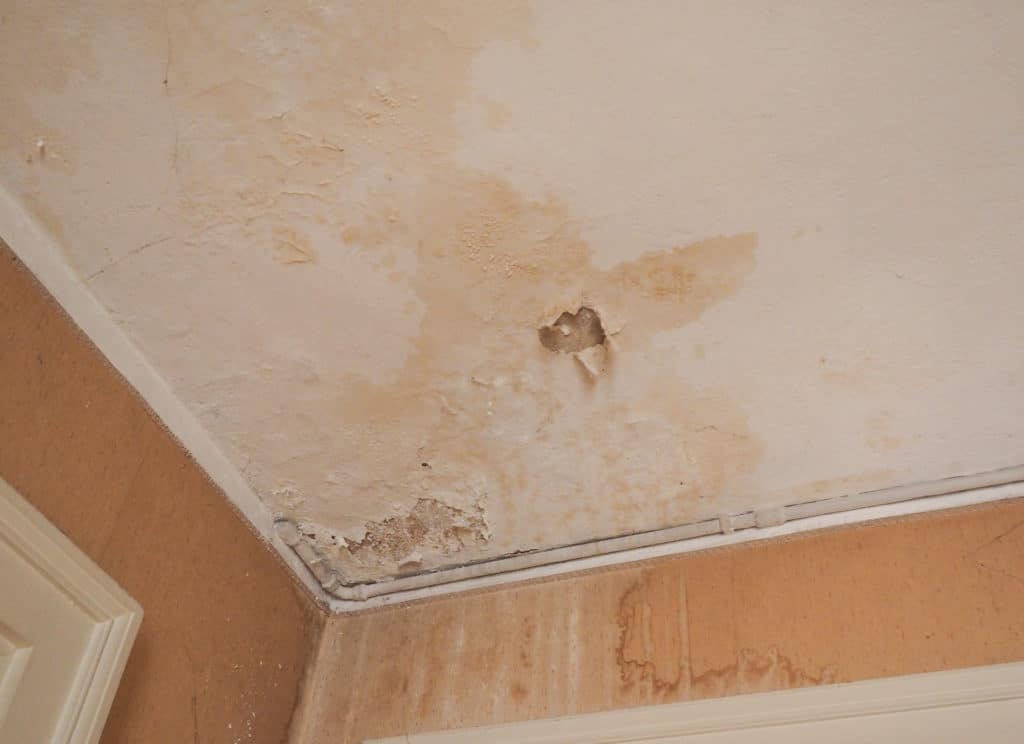 Due to causing the most damage, penetration damp is often the one of greatest concern. This type of damp occurs most commonly when water leaks into a building through either a wall, roof or ceiling and can cause terrible damage to a property. It can, however, also occur if there are interior pluming issues.
The common causes of penetration damp:
Leaky roof – loose and/or broken roof/slate tiles, damaged flashing etc.
Overflowing and/or damaged gutters and/or downpipes – loose, cracked, broken or blocked etc.
Damage to exterior walls – cracks and/or damage to the pointing, cladding, render or pebbledash.
Poorly fitted doors and/or windows.
Leaking interior pipe work.
How do I know if I have penetrating damp?
The most common signs of penetrating damp include things such as:
Damp patch/es (often a brown stain) suddenly appearing on an interior wall, ceiling or near a chimney breast.
Plaster is wet or crumbling.
Large bubbles may appear under plaster (this can lead to holes in the ceiling if left untreated).
Treatment for penetrating damp
The first step is to identify the source of the leak and fix the issue at the source. We highly recommend using an RICS accredited building surveyor. This is because they will be able to conduct a damp inspection and explain what your options are and how you can treat it.
If you live in a shared building such as a flat or maisonette, it would be in your best interest to speak with your neighbours. This could help identify the issue you're having sooner.
Preventing penetrating damp
The very best way to prevent penetrating damp from ever occurring, is to keep your home well maintained and to repair any issues (both inside and out) quickly and efficiently. We recommend that you:
Check your roof space regularly and look for any signs of water entering in the building or any timbers that feel moist/damp.
Ensure your air bricks (or any other ventilation/moisture preventing devices) are never obstructed.
Make sure that your pointing and/or paintwork are well maintained.
Important notice
This post is intended for general information purposes only and any information within should not be seen as professional advice. We recommend that you talk directly to an RICS accredited Building Surveyor to discuss your individual circumstances and needs.
---
We hope you found this post on identifying and treating different types of damp helpful. If you have any further tips or advice, please feel free to leave them below. We love hearing from you!
To keep up with our latest blogs, why not follow us on social media? You can find us on Facebook or Instagram @owatrolIreland or at the hashtag #owatrolIreland