One of the very first things people will see when they arrive at your home is of course, your front door.
Sadly, it is very common to see beautiful doors become dull and faded from exposure to sunlight, rain and pollution.
Luckily, we have a fantastic product called Polytrol that will restore your door to its former glory, making it look shiny and new with little time and effort and without costing you the earth.
What is Polytrol?
Polytrol colour restorer is an oil that penetrates deeply into the surface, re-wetting the dried-out pigments and so restoring the original colour and shine.
Polytrol's formula has been designed to create a tough, flexible and long-lasting finish when dry and as it saturates deep into the surface, there is no film left behind. This means that there will be no peeling or flaking.
Other available products may make your door look bright and shiny, but as the oil does not have the same saturating ability of Polytrol, it will only last for a very short period of time and your door will soon be looking like it did before.
Take a look at this before and after photo a customer sent in where they used Polytrol on their wood effect composite front door. We are sure you will agree that the difference is amazing – so much so that you could easily believe that the door is brand new!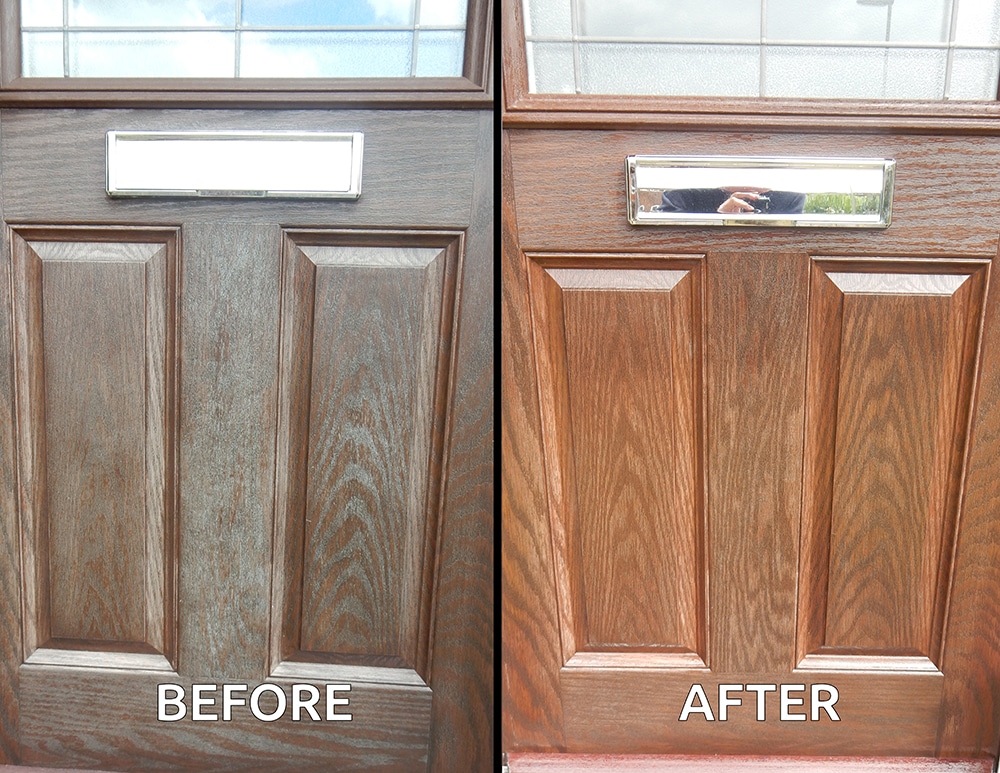 Take a look at our quick guide on how to use Polytrol on a composite front door
As with using all of our products, the preparation is key to having the best possible out come.
Prepare the door
The first step you need to take is to thoroughly clean your front door. If the door has any polishes, waxes or finishes on the surface, these will also need to be removed. This is because any dirt, grime, grease or mildew, wax, polish etc will impede the application, as the penetration of Polytrol would be compromised.
We recommend using either Owatrol Net-Trol cleaner, or a 50:50 bleach and water solution scrubbed into the surface, left to stand for 10 mins and then thoroughly rinsing with copious amounts of water.
Once you have completely removed any finishes and the door is clean, leave it to dry for a minimum of 24 hours.
Application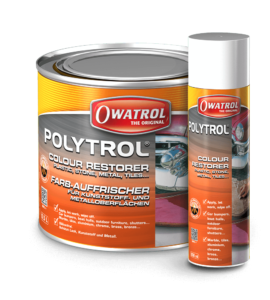 It is very important to work in areas that you can complete in 10-20 mins. This is to prevent the Polytrol from drying out and becoming sticky. If you have a standard size front door, you will most likely be able to complete it all in one go.
Using a brush or cloth, apply the Polytrol to the surface of the door. When applying you may notice that some areas are coming shiny and others are becoming matt.
If this happens, move the oil from the shiny areas onto the matt areas.
You will then need to leave it to work for 10-20 mins. After this time, you can remove the excess oil off with a clean lint free cloth.
If you are looking for a very shiny finish, you can also buff the Polytrol into the surface.
Leave the door to dry and you are done!
Clean up
The final step is to safely clean any tools you have used with white spirit. Any rags that you may have soaked Polytrol in will need to be properly discarded as they could spontaneously catch fire.
Head on over to the Polytrol product page for more information.
---
We hope you found this post helpful. If you have any other tips, tricks or advice, please feel free to leave them in the comments section below.
To keep up to date with all things Owatrol, why not follow us on our social media pages? You can find us on Facebook and Instagram @owatrolireland or at the hashtag #owatrolireland