Is the hull on your canal boat blacking in need of a touch-up? Are you new to owning a boat and not sure what you should do? Then this guide is for you!
Regular blacking of your hull is vital to maintain the overall condition of your boat to keep it from rusting in the water.
Depending on the products you use as well as how well you look after your boat will depend on how often you will need to re-do the blacking.
We have found that some people choose to do theirs every 12 – 18 months, while others leave theirs for 3 to even as long as every 5 years.
If your budget allows it, there is no reason to not do it every 12 months and overall your boat will benefit from it. A well maintained hull will reduce the cost of your boat insurance drastically.
So, where do we begin?
As is our mantra, the very first step in any project is preparation.
Removing your boat from the water
The first step is removing your boat from the water so the blackening process can begin. There are 3 ways you can do this:
Crane – The boat is removed from the water via a crane – this can be very expensive.
Slipway trailer – This is the most common choice as it is the most cost-effective.
Dry dock – The boat is driven into a floating dock and then the water is removed – this can also be expensive.
What is used to black the hull?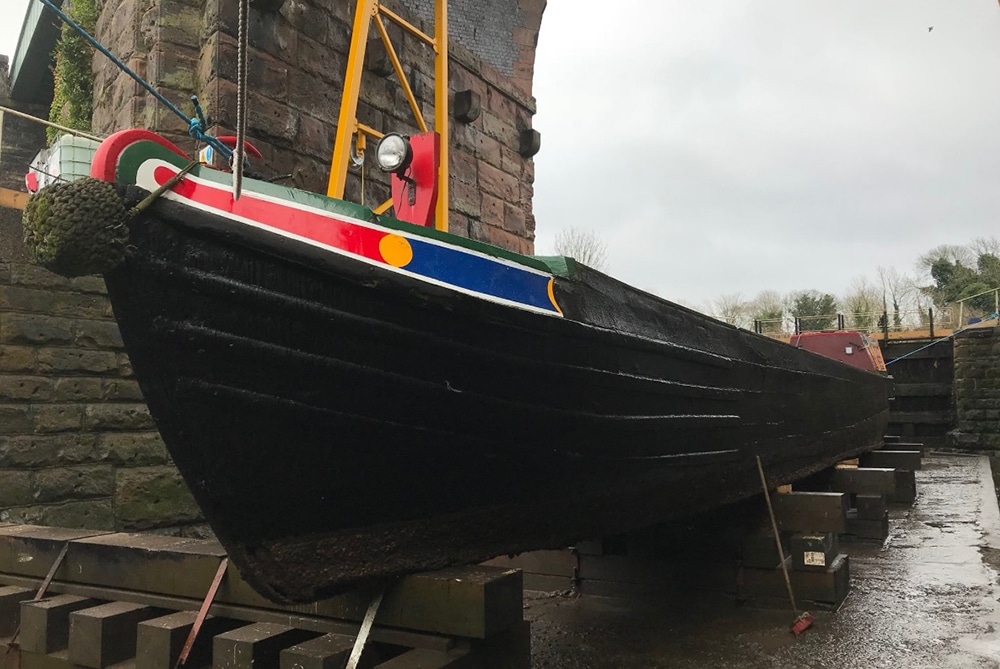 The 2 types of blacking that are used are Bitumin and Two Pack Epoxy.
Out of the two, the Two Pack Epoxy paint option is the more expensive one, however, it tends to last a lot longer and should last for approximately 5 years once applied. The Bitumen coatings are usually cheaper but generally only last around 2 years or so.
If you decide to opt for the two pack epoxy, the boat will then also require grit-blasting. This ensures a completely clean surface before application and this is what makes it the more expensive option. This way will save you money in the long run as the boat requires less removal from the water.
How much is the coating?
The overall cost of the coating will vary from place to place, the type of coating, as well as the size of your boat. Some places will do it from as little as €800 to €1,500+
We recommend shopping around to get the best deal possible.
The other option of course is to do it yourself. However, we strongly advise against this, especially so if it's your very first time dealing with blacking. We promise it's not as easy as it may seem!
How long does it take to re-black a hull?
It usually takes 3 days from start to finish;
Day one: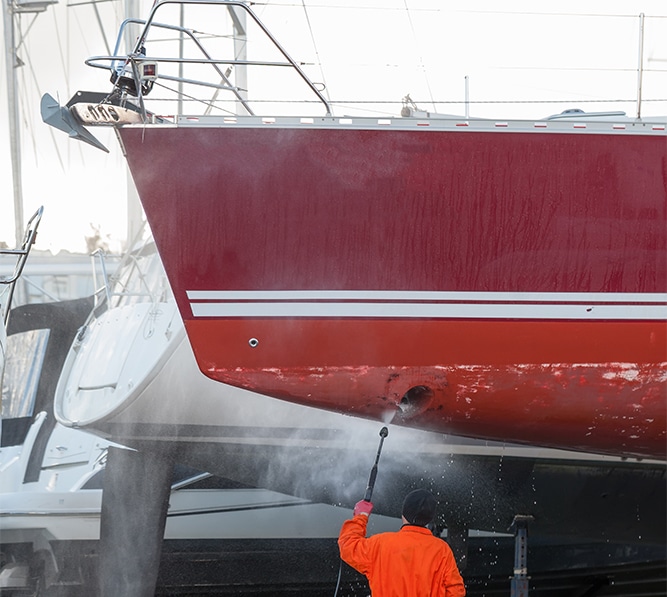 On day one the boat is removed from the water and pressure washed. This is to remove any debris, grime, rust as well as the previous blacking.
The waterline area might require more attention and so a special machine called a 'scrubber' might need to be used. This is usually not included in the price and is charged extra.
One the boat is clean it can then have its new coating applied.
Day two:
Once the hull is completely clean and ready to go, the application of the blacking can begin. Unfortunately, the painting must all be done by hand with a roller which as you can imagine is a very slow and very messy job. Due to its tar-like consistency and the fact that it hardens off very quickly, it is impossible to do it via machine.
Day three: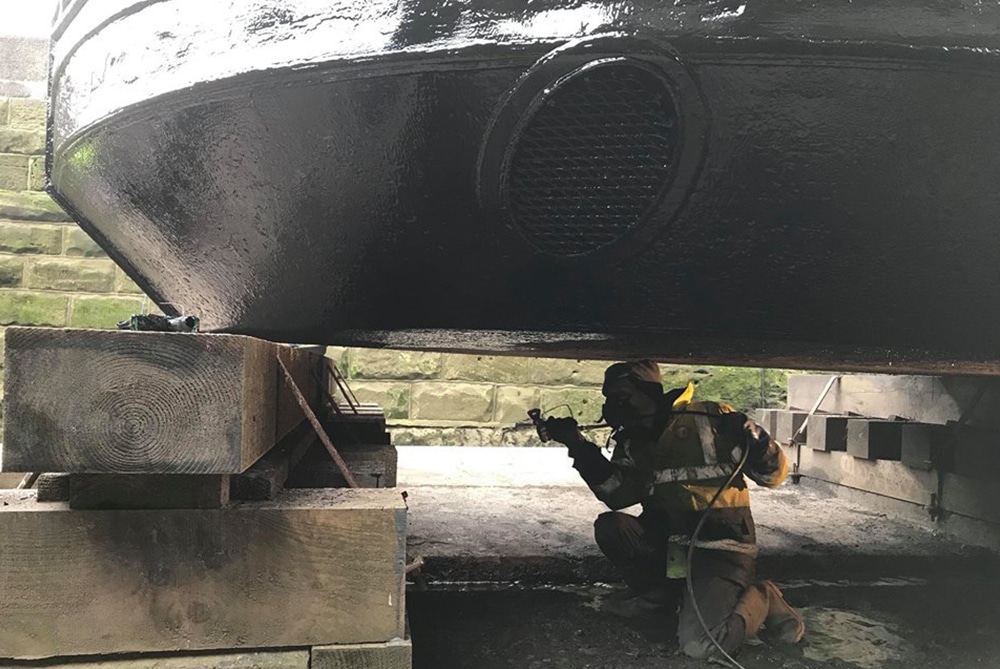 The third day consists of a repeat of day 2. A secondary coat is applied and if needed, an additional third coat can also be applied.
Once the final coat has been left to dry for 48 hours, the boat can then be returned to the water.
How to maintain the hull
The cheapest, easiest and best way to maintain your hull is to cruise carefully. Smashing through ice and bumping into banks and locks are just some of the things you will want to avoid to prolong the life of your hull.
We also highly recommend having working 'sacrificial anodes'. If you don't know, these are the little bumps of metal that corrode in place of your hull. As they have a higher electrochemical value than the steel hull, the anodes corrode away faster protecting your hull from damage.
Do keep an eye on them and check them regularly to avoid any pitting and corrosion as this can be very costly to put right as the boat may require re-plating.
Take a look at our marine care range for a variety of products to keep your boat looking and working its best. We have everything you might need, from stripping and cleaning products, to Gelcoat restoration and rust prevention.
---
We hope you found this guide to canal boat hull blacking helpful. If you have any other tips, tricks or advice, please feel free to leave them in the comments below. We love hearing from you!
Want to keep up with all things Owatrol? Why not follow us on social media? You can find us on Facebook and Instagram at @owatrolireland or at the hashtag #owatrolireland
All Images courtesy of Northwich Dry Dock