This post is all about decking inspiration! If you want to give your deck a new lease of life or perhaps are looking for inspiration into getting a deck installed, then take a look at our guide below.
Regardless of the size of your garden or your budget, there is something for everyone. Some times you just need to be a little bit creative!
Opaque paint finishes
There is a huge market full of colour options to choose from. The possibilities are basically limitless! We recommend opting for one that bonds to the wood fibres to aid adhesion. This will help alleviate peeling problems.
Take a look at our gallery below for a few interesting ideas:
Natural looking finishes
Some people don't want the natural look of their deck covered in paint. They want to be able to see the natural beauty of the wood. A wood oil such as Textrol saturating wood oil or a water-based wood finish such as Aquadecks can really accentuate the beauty of natural wood.
Take a look at a few examples below:
Make your deck stand out
Why not make your deck stand out from the crowd with a few extras? There are just a few things you could do to really achieve the look you've always dreamed of. For example, why not add some lighting to your decking? Perfect for when those Summer evenings roll into the night, or just simply to help set the mood.
You could also consider plants. You could simply have them around the deck, but you could also have some raised planters on the deck or even plants in pots with a trellis. Doing this will really help your deck become one with your garden rather than stand out from it.
If you have kids or visiting children, you even create a fun play area within the deck! This one in particular looks like fun for not only the kids, but the adults too!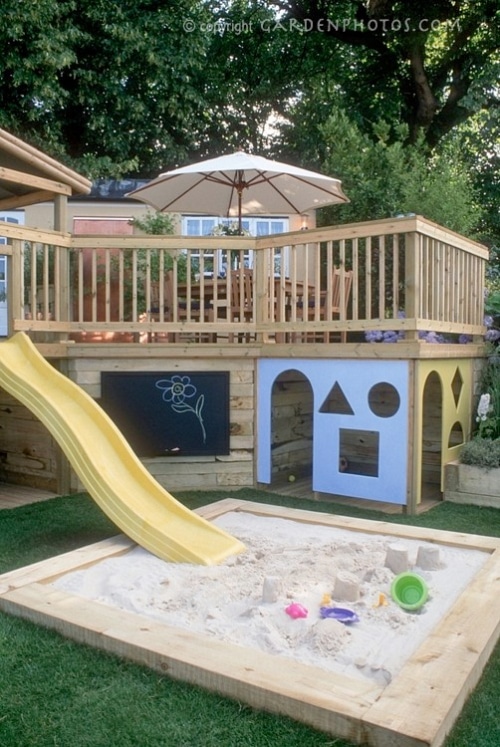 There are so many possibilities for creating a deck, so be sure to do lots of research so you can create one that is perfect for you.
---
We hope you found this post inspirational. Please feel free to share any other ideas with us below – we love hearing from you!
To keep up to date with all things Owatrol, why not follow us on social media? You can find us on Facebook and Instagram @owatrolIreland or at the hashtag #owatrolIreland