Is your car looking more like a bin than a means of transportation? Full of rubbish, mud, pet hair or food crumbs? No matter how often you use your car, whether that's for getting the kids to school, getting yourself to work, or just a little run around to get you from A to B, having a clean a tidy car will keep both you and your passengers happy.
Dust, dirt and food remnants can eventually build up over time and degrade your interiors. To combat this, we recommend you give your car a proper deep clean every few months or so.
However, getting a full valet service carried out can be expensive, so many people opt to do it themselves. Luckily, it's a fairly easy and straightforward task and to better help you, we are going to be listing out our top tips how to clean a cars interior.
Products list
Upholstery / leather cleaner
Glass cleaner
Multi-purpose cleaner
Compressed air
Dish soap
Disinfecting spray
Equipment / tools list
Microfiber cloth
Warm water
Bucket
Vacuum – hand held or regular (with attachments if available)
Bin bag / reusable bag
Sponge
Crevice cleaning tool
When it comes to how to clean a cars interior, we recommend starting at the top and working your way down.
Tip 1 – Airing out & removing things that don't belong
Our first tip is to air the car out. To do this simply open all the doors including the boot. This may seem like an odd one to start on, however, allowing fresh air to get inside your car (if only for 10 mins) will help alleviate any stale smell or unpleasant odours.
Next, simply remove anything that is in your car that does not belong. Put any rubbish straight into the bin/recycling bin or grab a reusable bag and pop anything to be kept in there.
Tip 2 – Removing and cleaning floor mats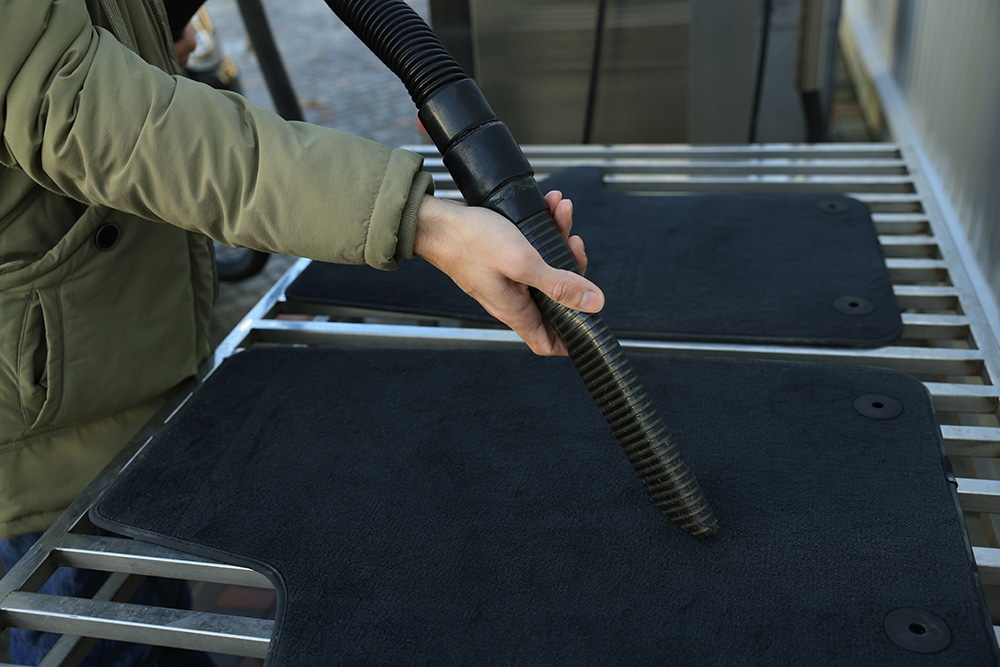 After you have removed all the items that don't belong, you can now remove the floor mats and get to cleaning. We recommend you clean them now as this gives them time to dry whilst you work on getting the rest of the car cleaned. This is especially the case if your mats are carpeted.
Start off by removing them from the car and shaking them vigorously followed by a few big bashes. Doing this will not only dislodge the larger debris, but will also help shift the smaller dust particles too.
Next is to begin the cleaning process. If your mats are safe for machine washing, feel free to do so. If not, you may require to use a carpet / upholstery cleaner on them. In either case, make sure to follow the cleaning instructions.
If instead of carpet your mats are made from rubber or silicone, you could instead use a garden hose or pressure washer to rinse them down. If there's something a little sticky that won't move with just water, you can just give them a quick sponge down with some warm soapy water. Then, simply leave them to dry.
If there are any child car seats, these should be removed at this point and any crumbs can just be wiped onto the floor. The use of a crevice tool is very handy for getting into these small awkward areas.
Tip 3 – Dusting and window cleaning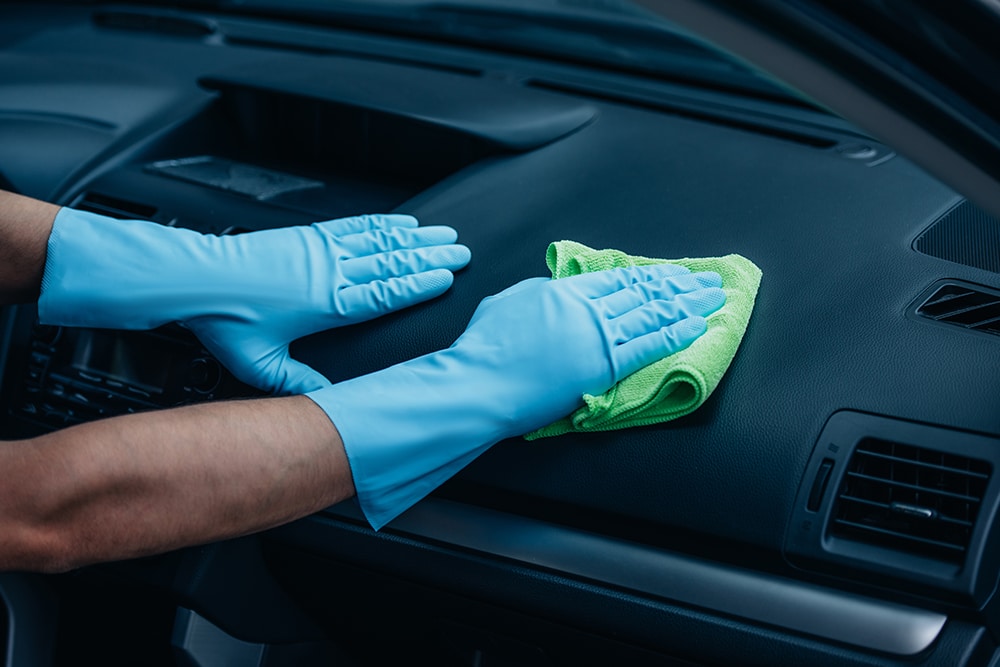 Being by using a microfibre cloth to wipe down the dashboard, centre console and the steering wheel. This will get rid of all that annoying dust. If you have it to hand, compressed air or the use of a crevice tool will help you get every last bit out of all those awkward little areas.
We do recommend taking care when cleaning any delicate items such as buttons or infotainment screens as they can become damaged if treated too roughly.
Next, grab your multi-surface cleaner and remove any other residue that may be on these surfaces.
Once the front area has been tackled, you can then move onto the interior doors and windows. Take your glass/window spray and wipe down all the interior windows as per the instructions. Try to opt for using something like a microfibre cloth instead of a sponge so you do not get streak marks, nor run the risk of scratching the glass.
Once the glass is nice and clean, move back to the mulit0surface spray and clean down the interior door – including the door handle and pocket area.
Now all the surfaces are sparkling clean, you can simply sanitise by using a disinfectant spray.
Tip 3.5 – Restore your steering wheel or dashboard colour
This step isn't necessarily for everyone, however, if your car's interior has faded and is looking more grey than black, you could try using a product such as Polytrol colour and shine restorer.
Owatrol Polytrol is a deeply penetrating oil which restores the original colour and appearance of dull or tarnished plastics, gelcoats, metals, and other surfaces.
It saturates deep down into the surface to re-wet the dried out pigments and restore their lustre and colour which has been lost through exposure to UV rays, rain, and/or pollution.
Simple to apply by using a cloth or soft brush, it's ready to wipe off in as little as 10 minutes. Polytrol dries to a tough and long-lasting flexible finish which does not leave a film and therefore will not peel or flake.
Tip 4 – Clean and vacuum the seating and floors
Now that the top (or rather the side) areas have been cleaned, you're ready to move onto the middle and bottom areas. One of the quickest and easiest ways to clean a cars interior is by using a vacuum cleaner.
Start off with the seats, being cautious of you have leather seats – perhaps use a soft brush attachment if you have one available.
Apply an applicable cleaning product to the seats if there are any stains or unpleasant smells. Be sure to follow the cleaning instructions.
Once the seats are nice and clean, you can move onto the final part of the car – the floor.
Again, using the vacuum cleaner, simply give the floors a thorough, deep cleaning. Use any attachments or nozzles in your arsenal to make sure you get the best clean possible.
If you have some upholstery cleaner, this would be a great option to use here as this will help give a boost of freshness. Alternatively, you could use a deodorising spray or a granulated carpet deodoriser. When coupled with an air freshener, your car will smell almost as good as new!
Our top tips for keeping your car clean
Now your car is nice and clean, there are a few things you can do to help make it stay that way longer.
Try to avoid eating in the car. This is because not only are there the likelihood of crumbs, but you will usually have a wrapper that needs disposing of after as well. If at all possible, try to keep the car a food free area.
Take rubbish / things that doesn't belong away with you. If you do eat in the car, try your best not to leave your rubbish behind when you arrive at your destination. The same goes for any other item/s that shouldn't be in the car. A car is a small space and it only requires 1 or 2 unnecessary items for it to become cluttered and messy.
Clean shoes / paws before getting in. If you can, we recommend keeping a brush in the boot to wipe away any dirt that you would otherwise bring inside the car. The same goes for your furry friends – you may want to consider keeping a small microfibre towel in the boot too so you can wipe their paws before getting in.
---
So there you have it! We hope this post on top tips for how to clean a cars interior was helpful. If you have any other advice or top tips, please feel free to leave them in the comments below. We love hearing from you!
You can also follow us on Facebook or Instagram at @OwatrolIreland or find us under the hashtag #OwatrolIreland