The cold, damp Winter months are almost over, allowing us to look forward to longer, lighter evenings and warmer days. It's around this time of the year we start to get ready for the annual Spring clean and perhaps a spot of redecorating.
You may have noticed some unsightly patches of mould or mildew of some of your walls or ceilings over the past few months. If this is the case, then worry not. Today we are going to explain an effective way to remove it.
Firstly, the absolute worst thing you can do it simply paint over the mould to hide it. This will be a waste of time and money as the mould will continue to grow underneath and will soon show through your new paintwork.
The best way to treat the mould is to kill it. This may sound like a difficult task but it is actually easier than you make think.
Mould removal
There are 3 main ways in which you can remove mould from your walls and ceilings.
Bleach and water mix: Probably the most commonly used way to remove mould and mildew is to use a bleach solution. This is likely due to the fact it is easily available and cost-effective.
Most will use a solution of one part bleach to 10 parts water. To do this you will need to have protection for your body (long sleeves, gloves, closed-toed shoes etc) but you will also need to have good ventilation and a mask to stop you breathing the fumes.
Vinegar and water mix: This is a particularly good way to remove mildew and very minor mould and is also a lot safer than using bleach. Some will make a vinegar and water solution whilst other will decant the vinegar into a spray bottle and apply it to the surface. Once it has sat for a period of time, it can then be scrubbed and/or wiped away with a cloth dipped in clean water.
Mould removal products: There are a wide variety of mould removal products on the market. We recommend reading the packaging thoroughly to make sure it is safe to use and suitable for your purposes.
Once you have removed the mould and mildew we recommend using a paint additive to stop it from coming back again.
Preventing regrowth with VC175 Mould Killer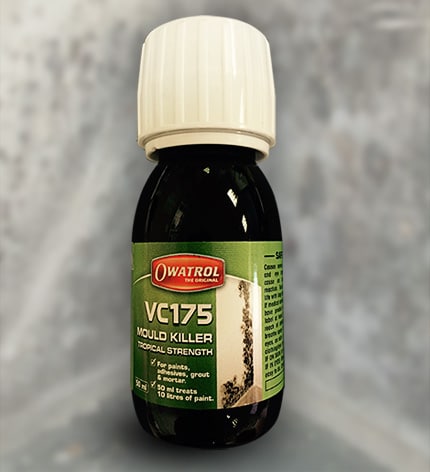 When it comes to repainting your walls after removing the mould and/or mildew, we recommend using a product such as VC175 mould killer. It is a very powerful and long-lasting solution that will protect against any unsightly mould from recurring.
You can add it to a wide variety of products such as paint, wood stains, grout, mortar, adhesives and more! Simply add the required amount into your chosen product and apply as you usually would.
Water-based and solvent-based paints and stains: Add 5ml of Mould Killer VC175 per litre of paint or stain and stir thoroughly.
Mortar, grout, textured coatings, fillers, adhesives: Add 5ml of Mould Killer VC175 to each kg of ready to use product.
---
We hope you found this post helpful. If you have any other tips, tricks or advice, please feel free to leave them in the comments section below.
To keep up to date with all things Owatrol, why not follow us on our social media pages? You can find us on Facebook and Instagram @owatrolireland or at the hashtag #owatrolireland